Al Arabiya Reporter Walks Off Newsmax Interview, Citing 'Israeli Propaganda'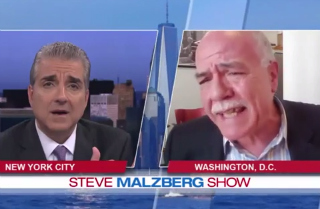 Al Arabiya News Channel's D.C. bureau chief Hisham Melhem sat down for satellite interview with Newsmax TV's Steve Malzberg on Friday, and sparks flew after the former charged the latter with spouting "Israeli propaganda."
One-quarter of the way through their discussion on the ongoing Israel-Gaza conflict, Malzberg interjected that he does not view minority Palestinian party Fataḥ as "moderate," contrary to a prior Melhem assertion, and suggested that Palestinians, in general, want a two-state solution — but one that does not involve a "Jewish state" of Israel.
Melhem responded that the issue is not over whether Israel is officially "Jewish" in nature, claiming that the country only recently began insisting upon such recognition in its demands. Malzberg fired back that Israel was founded in 1948 specifically as a Jewish state, and scolded his guest for thinking a peaceful solution will ever come about so long as Palestinian officials are not required to recognize Israel as a Jewish state.
"Look… if you want to throw at me the Israeli propaganda position," Melhem said, "then let's end the conversation now."
"Well, then let's end the conversation, sir," Malzberg agreed.
As the Al Arabiya reporter began to depart, the host continued to rail against him: "If you consider Israel wanting to be a Jewish state as Israeli propaganda, I think that's a radical position, sir."
Malzberg eventually noticed that Melhem had not left the Skype session yet, and asked, "Oh, you're back, sir?"
"No, I don't want to come back," Melhem replied. "This is ridiculous. You're talking Israeli propaganda and you want to waste my time… You don't have interest in serious discussion."
"Goodbye!" Malzberg shouted. "Then go! Sir, with all due respect, go."
Watch below, via Newsmax:
— —
>> Follow Andrew Kirell (@AndrewKirell) on Twitter
Have a tip we should know? tips@mediaite.com