Al Gore Accuses Rupert Murdoch Of Pushing Current Off Italian TV For Hiring Keith Olbermann (Updated)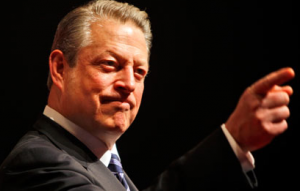 Al Gore has accused Rupert Murdoch of an "abuse of power," saying the News Corp. chief forced Gore's Current TV off the air in Italy because the channel–preparing to launch a signature nightly show with ex-MSNBC host Keith Olbermann–did not fit with Murdoch's "ideological agenda."
In an interview with the UK Guardian, Gore says Current was informed three weeks ago the channel would no longer be carried by Sky Italia "because of its decision to hire a U.S. left-leaning commentator often critical of Murdoch's company." Sky Italia is a digital satellite channel owned by Murdoch's News Corp.:
"News Corporation is an international conglomerate with an ideological agenda. It seeks political power in every nation they operate. They wield that power to shut down voices that disagree with the agenda of Rupert Murdoch," Gore said.

The decision, he added, was "a complete shock" but Current TV executives were told "off the record that the decision was taken on News Corp instructions from New York". The primary reason, he said, was "because Current is launching Keith Olbermann next month".
A spokesman for News Corp. said the decision to drop Current had nothing to do with Olbermann. "The non-renewal of Current TV's carriage agreement with Sky Italia is purely commercial. Current TV asked Sky Italia for double the carriage fee when prime-time viewing had fallen by 40% in the past year. Sky Italia's offer was in line with the market and reflected the performance of the channel. It had nothing to do with politics."
Current Italy responded with its own statement, which is translated here:
"News Corporation is taking liberties when they claim Current TV asked Sky Italia for double the carriage fee. In fact, we never offered any number to them before we were summarily informed that they were dropping us.

News Corporation is further taking liberties by claiming that Current Italy's ratings "dropped" by conveniently comparing only the first quarter of 2011 to 2010 in its entirety. In actual fact, Current Italy's ratings increased by 550% in 2010 compared to 2009."
Have a tip we should know? tips@mediaite.com