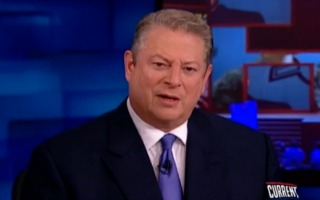 Former Vice President Al Gore, in an interview with Current TV, said that the state of American affairs went so horribly wrong under the administration of George W. Bush that he cannot be to blame for all of it.
"The underlying point I'm making is we have serious problems in our democracy and all of the blame put on George W. Bush — I'm not defending him in any way, believe me — but I think sometimes that misses the larger point that our democracy is indeed in trouble. And all of us have an obligation to try to fix it," said Gore.

"Obviously I'm not a fan of his presidency, but I want to make a point. Things went so badly wrong they cannot all be laid at [Bush's] doorstep. One quick example: When the Senate voted to go to war in Iraq, 77 percent of the American people believed that Saddam Hussein was responsible for the 9/11 attack. And yes, the administration put that impression out there, but where was the news media? Where were the responsible members of the Republican Party in the House and Senate and why weren't more Democrats standing up to that upright falsehood?"
In the interview, Gore went on to discuss his concerns about the changing global climate. He said that the evidence of climate change continues to mount; from a drought in the Midwest, to an increase in cases of West Nile Virus, to melting polar ice caps.
"Just as they did not report the truth about the proposal to invade Iraq, we are not getting the accurate impression about this challenge that we have to face — to stop putting 90 million tons of global warming pollution up into the atmosphere every single day," Gore said. "They aren't only doing nothing about it, there's hardly any discussion about it. It drives me crazy."
Watch the interview below via Current TV:
h/t The Daily Caller
> >Follow Noah Rothman (@Noah_C_Rothman) on Twitter
Have a tip we should know? tips@mediaite.com