Al Gore Says New Current TV Host Jennifer Granholm Could Have Been First Woman President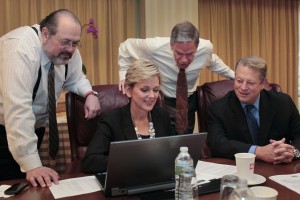 On the heels of its signing of The Young Turks' Cenk Uygur, Current TV has announced that former Michigan Gov. Jennifer Granholm will star in a new show, called The War Room, that will follow ratings anchor Countdown with Keith Olbermann at 9pm. Former Vice President Al Gore, Chairman and co-founder of Current, is very high on Granholm, telling reporters this afternoon that, had it not been for her Canadian birth, she might have become the first female President of the United States.
Current's press release described the show this way:
From the caucuses to the campaign trails to Capitol Hill, the hour-long program will shed light on the news of the day and will feature in-studio commentary by political insiders, campaign veterans, opinion leaders and newsmakers whose unique perspective will both inform and inspire.
According to Current, The War Room "will cap off a nightly roster of thought-provoking content beginning at 7:00 pm ET/PT with Cenk Uygur's The Young Turks (launching November 2011) to be followed at 8:00 pm ET/PT by Countdown with Keith Olbermann."
Gore was effusive in his praise of Granholm, saying in a press release, ""Jennifer Granholm is a supremely talented and dedicated public servant whose deep understanding of the issues makes her one of the most relevant voices in politics today. She would be an asset to any news organization, and I am delighted that she has chosen Current TV as her new home. I have no doubt that her ability to illuminate and provide context to the issues of the 2012 election will prove to be of inestimable value to Current's audience as well as to the public policy discussion surrounding the election."
In a conference call with reporters, Gore went quite a bit further. Echoing comments he made to the former governor over dinner last night, Gore said, "I sincerely believe that if (Jennifer Granholm) had not been born in Canada, she would have been a leading candidate for President of the United States, and would have been, very possibly, the first woman President of the United States."
He went on to say that she has "a combination of insight, intelligence, and personality that…is really going to be fantastic on television. I'm very excited about it."
I asked the former Vice President if he would share his wish list for the rest of Current's lineup, and he jokingly declined, but also declined to give specifics on the network's inroads into being available in more households, saying that "the ratings have been good," and that he was in "many different conversations, and we're very optimistic" about distribution. Gov. Granholm did reveal that comedian Brett Ehrlich, who formerly hosted infoMania on Current, will be a contributor to her show.
I also asked Gov. Granholm if she could gauge the political temperature of her show, relative to Keith Olbermann on the "hot" end of the spectrum, and Rachel Maddow on the "cool" side.
"I think we're gonna be a hot show," she said, with a laugh. "It's going to be hot in the sense that people will want to watch it, we want it to be fast-moving, and we want it to be entertaining, yes, but we also want it to be very thoughtful."
"Yes, I'm progressive," Granholm continued, "I'm on the left end of the spectrum, but I've also had to be a pragmatic governor, and can explain what that's like, dealing with a Republican legislature, and how important compromise is. It will be a blend of temperatures, but hopefully, the show itself will be a hot show."
It's probably not what she meant by a "hot show," but earlier in the call, asked if the Detroit Tigers should start Justin Verlander in Game 4 or save him for game 5, replied with an earthy turn of phrase, saying, "I say shoot the wad tonight, you gotta take it every game at a time."
Have a tip we should know? tips@mediaite.com