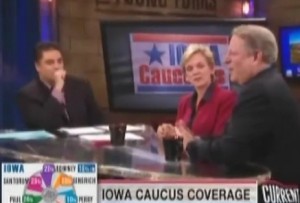 During Current TV's Iowa caucus coverage Tuesday night, network founder and former Vice President Al Gore,tore into Rep. Ron Paul, telling The Young Turks host Cenk Uygur and host of the upcoming War Room former Michigan Gov. Jennifer Granholm that Paul only has a chance in "fantasyland," and calling Paul's isolationist foreign policy positions "silly."
While Gore's diatribe won't likely lose Current many viewers, it will likely earn him some hate mail from the Paul faithful.
Speaking of Paul's electoral support, Gore laughingly said "He has a ceiling except in fantasyland."
Describing voter frustration with the economy and congressional inaction, Gore said GOP voters are saying "Let's play 52-card pickup, upend things, and do something radically different. And I think he does culturally, psychologically tap into that."
Gore also pointed out the extension of Paul's resonant anti-war message, that all US troops be brought home, is "silly," and Cenk Uygur added that Paul appeals to voters who "want to hit the reset button," but that Paul's reset button is "a nuclear option."
Uygur's assessment is actually not far from what Ron Paul is campaigning on. One of Paul's first ads in Iowa featured Paul literally blowing up government agencies.
Paul's ascendance looked a lot more threatening before the Rick Santorum surge, but his close third place finish in Iowa is probably enough for the media to go back to ignoring him, despite the fact that Paul has the money and the organization to hang in there for a long time to come.
Here's the clip from Current TV:

Have a tip we should know? tips@mediaite.com