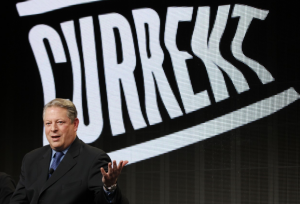 Al Gore already invited criticism by selling Current TV to Al Jazeera — and now the deal has landed him with a lawsuit. John Terenzio, the man bringing the suit, claimed the deal was his idea, and now he's been stiffed.
Terenzio, according to the Hollywood Reporter, "presents himself as a highly regarded media consultant, executive and TV producer who conceived the idea for the distribution of an American version of Al Jazeera." Gore, he said, originally opposed selling Current to oil-funded Al Jazeera, but had "a change of heart."
In the suit, Terenzio said he created China Central Television and that he was the one who proposed looking into Al Jazeera. His argument: "the structure proposed and the strategies developed were the same ones developed by Terenzio for CCTV and that there was a 'mutual understanding that Terenzio would be compensated if Current TV utilized his idea to consummate a sale to Al Jazeera.'"
The suit further states that "Gore was adamant in his rejection of the proposal to sell his liberal, environmentally friendly network to the oil-rich Qataris who owned Al Jazeera." But "apparently, Gore had a change of heart" — as Terenzio claimed the Current sale went through without his knowledge or approval.
According to the report, Terenzio is "suing for breach of implied agreement, unjust enrichment and quantum meruit ('what one has earned')" — and seeking $5 million for each cause of action.
Since news of the deal broke, Gore has faced scrutiny for selling his network to one funded by the oil-rich Qatar (given Gore's high-profile environmental activism). For his part, Gore has lauded Al Jazeera's reporting and "extensive and high-quality" coverage of climate change issues.
(h/t THR)
Have a tip we should know? tips@mediaite.com