Al Gore Takes A Swipe At MSNBC's Liberal Cred While Confirming Olbermann Is 'Fine' At Current TV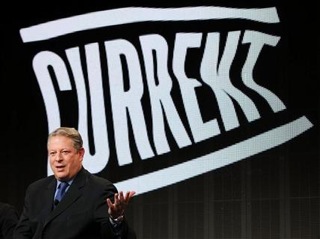 After several reports on the relationship between the network and anchor Keith Olbermann, Current TV head Al Gore made several statements today confirming that Olbermann is "fine" at the network and attacking MSNBC for being "all over the lot" politically, while Current was "consistent" in its progressivism.

RELATED: Current TV Source: Keith Olbermann Has Not Responded To Request To Cover New Hampshire
Gore spoke to the AP in a report published last night, explaining that Olbermann was a pivotal member of the team and that he considered the beauty of Current TV to be its strict point of view:
Former Vice President Al Gore on Friday described Current TV as the "consistent" liberal TV network compared with MSNBC, and said it will keep Keith Olbermann in the fold.

"He's fine," said Gore, chairman of the network in 63 million U.S. homes, dismissing rumors that Olbermann was seeking to leave. "He has been the key to our ability to pivot and develop our whole network as a progressive news and commentary network." […]

"They've got a few progressive shows on MSNBC in prime time," Gore said, "but they'll start the day with a conservative show in the mornings, and then they'll get the prison channel on the weekends. They'll be all over the lot in the middle of the day. We're consistent."
Current TV officials have said that Olbermann's absence at programming meetings is due to his being on vacation, and the network brass seems to publicly be on his side. Current CEO Joel Hyatt attributed MSNBC's liberal tendencies to Olbermann's work, and blasted the network as lacking "authenticity" to the AP. MSNBC and Olbermann did not respond to Current's remarks, but it sounds like a very different tune from the lawyer-laden reports of the past week, and appears to confirm that the network and the anchor are committed to staying together.
Have a tip we should know? tips@mediaite.com