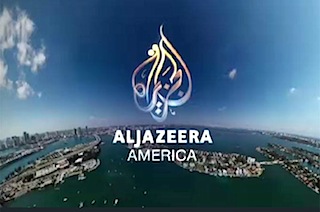 Al Jazeera America announced Wednesday afternoon that it has replaced Ehab Al Shihabi as the network's CEO, effective immediately.
The move came hours after a New York Times report claimed that Al Shihabi had created a culture of low morale, fear, and retaliation in the American arm of the Qatar-owned news empire. The exposé, which included quotes from recently-resigned executives, also alleged that the CEO had threatened to "bankrupt" reporter Ali Velshi after a heated newsroom meeting.
Al Jazeera America has also been in the news for a series of layoffs and a former employee's $5 million lawsuit alleging that the network's senior vice president of broadcast operations and technology Osman Mahmud engaged in "removing female employees from projects to which they had been previously assigned by other management level employees, excluding women from emails and meetings relevant to their assignments, and making discriminatory, anti-Semitic and anti-American remarks such as 'whoever supports Israel should die a fiery death in hell.'" The ex-staffer alleged that he was fired after complaining about these misdeeds to his superiors.
Al Shihabi's replacement, Al Anstey, was previously the managing editor of Al Jazeera English. "I'm delighted to be leading Al Jazeera America into the next stage of its development," he said in a press release. "The United States is a remarkable country, with amazing people across the nation who are looking for in-depth, trusted, and inspiring stories."
Unmentioned in any comments or press releases, however, is whether Al Shihabi will remain with AJAM in any capacity.
— —
Have a tip we should know? tips@mediaite.com