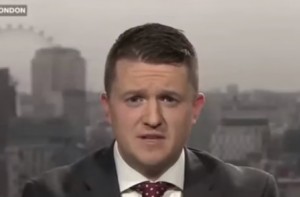 An Al Jazeera English program was caught editing out criticism of Muhammad after the guest who made the comments released his own footage of the interview.
Islam critic and founder of the far-right English Defense League Tommy Robinson appeared on Inside Story to discuss his stance on the religion. The host of the program Peter Dobbie opened the interview by trying to trick Robinson, reading out "Quran" quotes that were actually from the Bible.
"When you hear those quotes, what do you think that speaks to?" he asked.
"I'd ask you why you're reading the Old Testament to me," Robinson said. "I'm not stupid. You're sitting quoting verses from the Old Testament thinking I'm a moron that would think that's from the Quran. I know the Old Testament and I know the Quran."
Robinson insisted that in Al Jazeera's home country of Qatar, it was illegal to criticize Muhammad, while Dobbie insisted that criticism of Muhammad was legal. But the next fifty seconds of their conversation – in which Robinson called Muhammad a pedophile and a murderer – were cut out of the broadcast.
Pro-Israel blog IsraellyCool, who first tagged the clip, created a video showing the difference between what Robinson actually said, and the broadcasted version.
In the footage of the interview Robinson released, he says the following: "You know of the life of Muhammad, yes? You know that he murdered 600 people. You know that he raped… And when he is the moral compass for every Muslim in the world and he married a six-year-old child called Aisha and he raped her when she was nine, I have a problem with that."
Al Jazeera English also cut a portion of the interview in which Robinson criticized Qatar as fascist, noting that Israelis are not even allowed to enter the country. Al Jazeera is partly owned by the ruling family of Qatar.
In a statement to Breitbart, Al Jazeera said the following in its defense: "Inside Story is a pre-recorded programme, and on many occasions our editorial staff make decisions on what to include or omit based on what is editorially relevant and acceptable to broadcasting standards to the particular debate being aired in the episode in question."
Watch above, via Al Jazeera English.
[Image via screengrab]
——
>>Follow Alex Griswold (@HashtagGriswold) on Twitter
Have a tip we should know? tips@mediaite.com