Al Jazeera English Charlie Hebdo Coverage Leads to More Questions About Its Credibility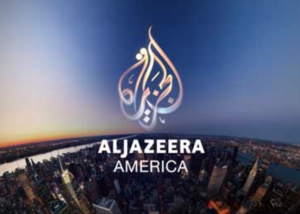 When Al Jazeera decided to launch a network based in the United States, the first thought that came to mind was, "What are they going to call it?"
After all, Al Jazeera — fairly or unfairly — is viewed as a negative media entity by many here. Trust is a challenge, simply because it is owned by the Qatar monarchy and therefore is seen by some as an instrument of that government, much like RT (formerly known as Russia Today) is portrayed as an extension of Vladimir Putin and the Kremlin. So when Al Jazeera chose to call its America-based network "Al Jazeera America," it was already playing from behind before airing its first broadcast back in August 2013.
But here's the thing: Al Jazeera America — or AJAM — does some good reporting and offer much less opinion than Fox, CNN and MSNBC. So if you're a news junkie with a preference for domestic hard news with a focus on international matters as well, AJAM approaches the same level of quality as the BBC. Problem is, those kind of news consumers are apparently at a premium these days, as AJAM averages just 5000 viewers total day in the key 25-54 demo, which is 2.31 percent of the demo average for cable news leader Fox News (216K), 3.94 percent of second place CNN (127,000) and 4.55 percent of third place MSNBC (110,000K). In primetime, AJAM draws only 6000 in the demo (compared to 309K for Fox, 187K for CNN and 169K for MSNBC). In terms of total audience in primetime, AJAM averages 18,000 per night compared to 1.8 million for Fox, 600,000 for MSNBC and 528,000 for CNN. In other words, AJAM's total audience Monday-Friday would still be 15,000 short of a sellout for tonight's College Football National Championship between the Ducks and Bucks at AT&T Stadium in Dallas.
So as you can see, AJAM has little margin for error in terms of perception as it tries build trust and credibility stateside.
To that end, it was a more than troubling to see National Review release internal Al Jazeera English (the company's international 24-hour English-language news channel) newsroom emails it exclusively obtained that purportedly show staffers complaining about Charlie Hebdo while appearing to hold the magazine almost as responsible as the terrorists themselves for the violent deaths.
According to the obtained emails, executive producer Salah-Aldeen Khadr sent an email to staff advising how most effectively cover the situation in Paris. Per Mr. Khadr:
Was this really an attack on 'Free speech'? Who is attacking free speech here exactly?" Or whether "I Am Charlie" is an "alienating slogan." And he goes to far as to say the cartoonists are just as radical as the terrorists, writing, "This is a clash of extremist fringes.
Also writing:
You don't actually stick it to the terrorists by insulting the majority of Muslims by reproducing more cartoons – you actually entrench the very animosity and divisions these guys seek to sow.
And…
Defending freedom of expression in the face of oppression is one thing; insisting on the right to be obnoxious and offensive just because you can is infantile.
Of course, Khadr's rhetoric prompted responses internally, including one from AJE's U.S.-based correspondent Tom Ackerman, who quoted an op-ed by Ross Douthat in the New York Times: "If a large enough group of someone is willing to kill you for saying something, then it's something that almost certainly needs to be said, because otherwise the violent have veto power over liberal civilization."
Ackerman's retort didn't sit well with Al Jazeera's Qatar headquarters, as reporter Mohamed Vall Salem fired back: "I guess if you encourage people to go on insulting 1.5 billion people about their most sacred icons then you just want more killings because as I said in 1.5 billion there will remain some fools who don't abide by the laws or know about free speech." Salem added that he thought "what Charlie Hebdo did was not free speech it was an abuse of free speech," and concluded by condemning the "Heinous killings" but adding, "I'M NOT CHARLIE."
To which Al Jazeera Paris senior correspondent Jacky Rowland to write: "We are Aljazeera. So, a polite reminder: #journalismisnotacrime."
To which Omar al Saleh from Doha to say: "First i condemn the brutal killing. But I AM NOT CHARLIE. JOURNALISM IS NOT A CRIME. INSULTISM IS NOT JOURNALISM. AND NOT DOING JOURNALISM PROPERLY IS CRIME."
The squabbles led to Al Jazeera doing an in-depth panel segment focusing on free speech and terrorism. Here's how aljazeera.com sets up the debate — which again includes the B-word ("but", emphasis mine): "France has a tradition of satire that shocks and savages – to an extent that would not be tolerated in other so-called liberal democracies. There is nothing that justifies the murder of any journalist or cartoonist over their work, but this is a story in need of explanation."
Internal cat fights, community access ratings and a big-time branding problem only complicated by "but" discussions that attempt to provide the "other side" of an argument that shouldn't exist. These are just some of the challenges Al Jazeera — and most importantly, its American network — must overcome if it ever expects to earn the acceptance it craves from U.S. journalists and audiences alike.
— —
>> Follow Joe Concha on Twitter @JoeConchaTV
Have a tip we should know? tips@mediaite.com