Al Jazeera Host Clashes With Israeli Spokesman, Charges Israel With Targeting Journalists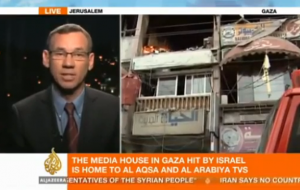 Al Jazeera host Darren Jordon grew heated with Israeli spokesman Mark Regev during an interview recently, when he asked about Israel's recent attack on a media building in Gaza. Challenging Regev's answers, the host questioned whether Israel's aiming to shoot the messenger.
The segment pertained to the attack by Israel on a media building, where journalists from several media organizations were, in Gaza. A spokesman for Israeli Prime Minister Benjamin Netanyahu said, "Senior Islamic Jihad terrorists hid in a media building in Gaza, using journalists working there as human shields." The missile attack killed two people, including a militant, and injured at least six others.
"We don't target journalists," Regev said. "We target Hamas." Jordon countered that they had intelligence that there were journalists throughout the building — and that their rockets can't aren't precise enough to avoid injuring people below the roof (where Israel said Hamas communication equipment was set up).
"As far as I know, no foreign journalists were hurt whatsoever," Regev said. "We were surgical, we took out the target that we wanted to take out."
"You can't sit there and say no journalists were injured," Jordon replied. "One person had their leg blown off. That is a fact."
To that point, Regev offered a discussion on who is a legitimate journalist, remarking that, "Just as in other totalitarian regimes, the media is used by the regime for command and control and also for security purposes. From our point of view, that's not a legitimate journalist."
Even if we are to accept that idea, Jordon said, it doesn't provide a full explanation because there were foreign journalist in and around the building — from organizations such as Reuters, Al Arabiya and Russia Today.
"None of whom were hurt," Regev said.
"What are you saying, that a local Arab journalist's life is any less than an international journalist?" Jordon asked several times.
"Unconditionally, no. We see all journalists as legitimate people," Regev replied.
Asked if "Israel apologize for the injuries caused in this attack," Regev responded, "Israel does not target journalists, and I think there are very legitimate questions about Hamas using journalists as human shields."
Toward the end of the segment, Jordon sought to remind Regev that "journalists are not armed combatants" and they "have the job to get the story out." Then he asked, "You clearly are targeting the media, aren't you? You're shooting the messenger."
Regev replied, "Not true at all."
Watch below:

(H/T HuffPost)
Have a tip we should know? [email protected]