Al Sharpton Analyzes New George Zimmerman Video: Not A Man Beaten 'Within An Inch Of His Life'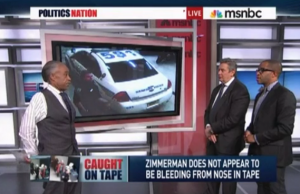 The new George Zimmerman surveillance video, released by the Sanford Police Department, is the latest in the ongoing release of information in the Trayvon Martin case. Upon seeing the footage, many said Zimmerman looked unharmed, contrary to claims on the police report. On his show Thursday evening, Rev. Al Sharpton argued just that. It's clear from the video, he said, that Zimmerman wasn't hurt — and certainly not hurt enough to shoot in self-defense.
"All of this, look at this walk, look at how he's walking along doesn't appear to be limping or rattled or traumatized," Sharpton said. "Here's a man who said he was beaten within an inch of his life, who just killed somebody 30 minutes before we're seeing him on this tape."
Lou Palumbo, a retired police investigator, was on set and said the video evidence is "not consistent with injuries that would justify the use of deadly physical force." They focused on the specifics, starting with the broken nose indicated in the police report. Looking at the footage, they agreed that there seemed to be nothing showing Zimmerman had sustained any such injury. "You really don't even see a bruise and you certainly don't see blood," Sharpton said.
Clearly, they agreed, the injuries in the police report just are not consistent with what the tape shows. Addressing those who might argue the injuries are hard to see on the tape, the Washington Post's Jonathan Capehart said, someone who's broken their nose "would have bandages."
If Zimmerman had any significant injuries, the three agreed, they would be visible in that footage.
Take a look, via MSNBC:

Have a tip we should know? tips@mediaite.com