Al Sharpton Calls Out Bernie Campaign Manager: You Didn't Win Black Voters 'Even In The North'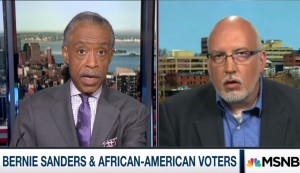 One of the issues that has dogged independent Vermont Senator and Democratic presidential candidate Bernie Sanders has been his persistently low support among black voters, which the campaign has explained as a function of factors including Hillary Clinton's "relationship" with the black community, her support with older black voters, and the need for black voters to get to know Sanders better. On Saturday, Rev. Al Sharpton asked campaign manager Jeff Weaver about Sanders' anemic support with black voters, and Weaver noted that Hillary did very well in early states, but countered that Sanders "has been doing better and better with African-American voters as this process has gone along."
Rev. Sharpton didn't accept Weaver's spin:
Weaver: Especially early on, Reverend Sharpton, when we were competing in the southern states early on. He was not as well known and the Secretary has a deep roots in the South. She was first lady of Arkansas for a dozen years and first lady of the United States. As the campaign has gone along and we moved more north where the Secretary and Bill Clinton did not have as deep political roots, Bernie Sanders has done better and better with African-American voters and Latino voters.

Sharpton: Let's be real clear, you did not win the African-American vote, even in the North.
Sharpton is correct, but even Weaver's claim that Bernie Sanders is "doing better and better" with black voters is incorrect. According to Reuters, Bernie has lost more than 7 points to Hillary Clinton with black voters in the past month, and even with the group Weaver cited, black voters under age 49, Clinton has widened her lead by almost six points since April. Sanders still holds a seven-point lead with black voters under age 35.
Have a tip we should know? tips@mediaite.com