Al Sharpton Calls Out Democrats Over Not Defending Holder: Why Have You Gained 'Political Laryngitis'?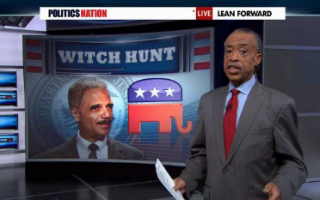 On Wednesday night's Politics Nation, MSNBC host Al Sharpton called out the GOP for running what he described as a "smear campaign" against Attorney General Eric Holder before calling out both Republicans and Democrats over the new voting laws.
"Today," said Sharpton, 45 years after Thurgood Marshall was appointed as the United States Supreme Court's first black justice, "Republicans are in the midst of a vicious attack campaign against the nation's first African American Attorney General as part of an ugly effort that began even before Holder took office." He then played several clips of Holder responding to questions being posed to him about the Fast & Furious gun walking operation by members of Congress.
RELATED: Tense Megyn Kelly Panel Explodes Over Likelihood Eric Holder Will Be Found In Contempt
Rev. Sharpton had strong words for those congresspeople, even calling them out by name:
Republicans going after the attorney general have resorted to attacks that sink to a whole new low of dishonesty and disrespect. He is, after all, the chief law enforcement officer of the United States. You don`t show that kind of disrespect to the attorney general of the United States. In fact, I want to name the politicians you just saw in that clip. Congresswoman Ann Marie Buerkle of New York. Congressman Tim Walberg of Michigan. Congressman Raul Labrador of Idaho….they should be ashamed of their conduct.
He brought on Rep. Emanuel Cleaver to discuss the issue further, the two agreeing that the questions and blame being directed at Holder demonstrate a certain lack of respect.
Then, later in the show, Sharpton turned his attention to controversial new voting laws, which Texas senator John Senator Cornyn had brought up in relation to Holder:
"There is no voter fraud," said Sharpton. "So, what [Cornyn is] really saying is that the Attorney General should not enforce the Voting Rights act." He then wondered why Democrats weren't doing more to address this.
Where is the leadership of the Democratic Party? That's right. Oh, we've heard some Democrats stand up. — Congressman Cleaver and others among them — certainly Elijah Cummings. But I'm talking about the heads of the party. Why have you in this whole debacle gained political laryngitis? I think you need to be called out.
Have a look, via MSNBC:
Have a tip we should know? tips@mediaite.com