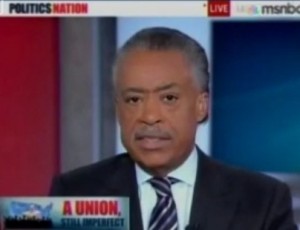 Rev. Al Sharpton got a new job, and so far his first week as host of MSNBC's PoliticsNation has gone off with — well, maybe a few hitches. Quick-witted and charismatic as a public figure, Sharpton has struggled with rendering his "reverent" style to the smaller screen in this first week. And while time might right some of those issues, an interview with him in the Wall Street Journal today raises concern as to whether or not he actually knew what he was getting himself into. Sharpton, it seems, did not know that as an MSNBC host, he is not allowed to make political endorsements.
If such is the case, Sharpton should take heed, because if Keith Olbermann and Joe Scarborough's experience before him have anything to prove, it's that not knowing the rules at can very quickly cost you your seat. Can a man who has made a career of endorsing make it?
Michael Howard Saul writes for the WSJ:
But in an interview with The Wall Street Journal on Wednesday, Mr. Sharpton said he wasn't aware of any MSNBC rules that prohibit him from endorsing candidates. "I cannot write checks, but I can make endorsements if I choose," he explained.

Lauren Skowronski, a network spokeswoman, said, "Rev. Sharpton will be adhering to NBC News policies now that he's an MSNBC host. NBC News prohibits employees from campaigning for candidates without prior consent from management."

When told that Mr. Sharpton believed he was free to endorse candidates—and just merely barred from making political donations—Ms. Skowronski replied, "I can let you know that Rev. Sharpton is aware of the policy and has agreed to adhere accordingly."
And it will be important that he does, especially after last falls endorsement mishaps that resulted in the suspensions of Olbermann and Scarborough. One time MSNBC darling Olbermann was suspended after news broke that he had donated, in the maximum amount, to three different democratic candidates without network approval. The offense was reason for immediate and indefinite suspension, which eventually added to his eventual departure.
Meanwhile, Joe Scarborough was forced to serve a two-day suspension after it was pointed out that, like Olbermann, he too had made numerous and generous donations to politicians he had covered on his Morning Joe. Having already taken heat for giving space to Sharpton's known leftist politics, MSNBC will need to keep an eye out, so as not to appear like a network helmed not by thoughtful pundits, but by a bunch of lobbyists.
Sharpton seems aware that he is is not allowed to "write checks," the mistake that Olbermann and Scarborough both ended up paying for, but he will have to be careful to reign in his tendency to endorse — and often to endorse loudly — especially as the election approaches. Having acted as an activist and a broader public figure since that mid-1980s, Sharpton's voice has become a common one in the politics. So common, in fact, that as WSJ's Michael Howard Saul writes, "for many, watching a significant political race without a Sharpton endorsement will be like observing the Fourth of July without fireworks."
If Sharpton wishes to maintain his new, nightly platform, it will be vital that he readjust, and having said his piece in the past, he sounds ready to do so. "I have been very supportive of the president, and that has happened pre-MSNBC, and I'll be on the television dealing with how I feel about the policies." And anyways, perhaps a short run is all he needs. After all, it doesn't exactly sound like he's thinking about staying around for ever: "Where I go after the presidential race, we'll see."
Have a tip we should know? tips@mediaite.com