Al Sharpton Draws Conservative Ire Over States Rights And Segregation In Debut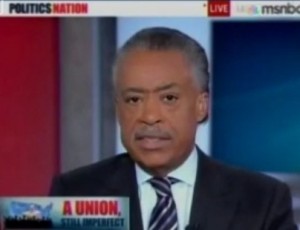 The debut of Rev. Al Sharpton's new show, Politics Nation, was punctuated with an essay on states' rights that is drawing fire from conservative BreitbartTV. Despite the fact that Sharpton discusses a broad range of states' rights issues that happens to include segregation, the normally dog whistle-deaf website hears only a nonexistent charge of racism in Sharpton's call for a strong national government that protects all Americans, no matter where they live.

BreitbartTV, along with other conservative websites, has been waging a stepped-up campaign of mockery against Sharpton since it was reported that he would be replacing Cenk Uygur at 6pm, a decision that drew criticism from the left, the right, and from some journalists. BreitbartTV has consistently mocked Sharpton's delivery, and mockingly compared him to NBC News anchors over the years.
In this case, they hit all of the familiar themes in introducing the clip:
Using his now familiar bumbling, bewildering and bombastic delivery, Al Sharpton premiered his brand new show on MSNBC, "Politics Nation" with an attack on the GOP presidential candidates saying they want to bring the country back to pre-1960's segregationist times. He also promised that this was what his show was going to be about.

Considering Mr. Sharpton's entire career up to this point has been defined by making loud accusations of racism through a bullhorn, we should not be surprised that this will be the content of his NBC News program. Lean Forward, indeed.
The clip in question does include references to segregation and slavery, and Sharpton does conclude that the current Republican field would like to return America to a pre-Sixties mindset, but shockingly, BreitbartTV ignores some crucial context.
In the segment, Sharpton ticks off a laundry list of the ways that states' rights has been used to allow conservatives to opt out of progress over the years, from the New Deal, to the Civil Rights movement, the Great Society, and today's efforts by the GOP to dismantle Medicare, Social Security, and health care reform, and to usurp the federal government on issues like immigration.
To be fair, Sharpton's use of the 1960s as the dividing line is provocative if you're really defensive about segregation, and if conservatives want to say, "C'mon, we know what he meant," I won't argue the point, provided they remember that phrase when it's applied to one of their own. However, his comparison is clearly not meant as an accusation of racism, but as an illustration of how states' rights has been used to marginalize all kinds of people, in all kinds of ways. Republicans also conveniently ignore the doctrine when they want to keep people from getting married, or making choices about their own medical care (women only!), or skirting state insurance regulations, but that's a different story.
The segregationist comparison is becoming America's new Godwin's Law, and while its use is trivializing and prejudicial in some cases, Sharpton's inclusion of it in a discussion of states' rights is completely appropriate. Segregation-era racism should not be used as a metaphoric catch-all for resistance to progress, but there is no finer example of the federal government's role in protecting people from the shifting winds of regional influences.
Here's the clip, from MSNBC:
Have a tip we should know? tips@mediaite.com