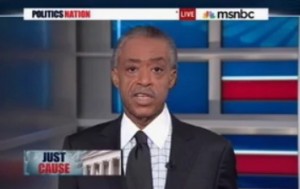 Despite our earlier report to the contrary, Rev. Al Sharpton actually has mentioned the Trayvon Martin case since the emergence of new evidence in the case against accused murderer George Zimmerman. He did it Monday night, and the segment he devoted to it goes a long way toward explaining why the progressive media's coverage of this case has waned for the moment.
There's been a lot of crowing on the right about newly-released evidence that supports elements of Trayvon Martin shooter George Zimmerman's account, but which does nothing to demonstrate that Zimmerman was not the aggressor. They have framed this story as a team sport, with conservatives trying to score points on Zimmerman's side, against the liberals (and to some degree, the mainstream media) on Trayvon Martin's side. They're missing the point. Trayvon Martin isn't going to "win."
While I believe the letter of our earlier post, "MSNBC Primetime Makes Zero Mentions Of Trayvon Martin Case After Pro-Zimmerman Evidence Surfaces," is incorrect (although the headline doesn't indicate this, the body of the article referred only to last Mon-Fri), the overall trend it points to is largely true, there has been little said about the case by MSNBC's primetime hosts. However, the observation misses the point of the network's "crusading" coverage of the Trayvon Martin story.
As Rev. Al Sharpton explained Monday night, the Trayvon Martin story was never about convicting George Zimmerman, or about some aggravated sense of outrage at the fact that a young black man was killed, it was to hold the justice system accountable for delivering on its promise to all Americans.
"Trayvon Martin's family lawyer called me to get involved because justice was not taking its course," Rev. Al said. "George Zimmerman needed to be arrested, the evidence supported that."
He added, "I did not come to Florida after talking to Sybrina and Tracey to convict Zimmerman. I came to say what is good for one is good for all. Black, white, gay, straight, young and old, the same standards of justice should be applied to everyone."
In the weeks leading up to Zimmerman's arrest, progressive media outlets led the charge for justice, not for a conviction of George Zimmerman in the public eye. Trayvon Martin is dead, he's not coming back, and the source of national outrage over this was the fact that the police simply took the shooter's word for it that it was Trayvon Martin who attempted to murder George Zimmerman. That injustice was compounded by the fact that law enforcement was engaged in a smear campaign against Trayvon Martin.
Now that Zimmerman has been arrested, and will have his day in court, there's little else for them to say until that day arrives. It's now the purview of legal experts like our own Dan Abrams. George Zimmerman deserves a fair trial, he deserves his presumption of innocence, just as Trayvon did. The point has always been that if you kill someone, you must answer for it, and for now, George Zimmerman is. How that justice is achieved will most certainly be the subject of future coverage.
Here's the clip, from MSNBC's PoliticsNation:
Have a tip we should know? tips@mediaite.com