Al Sharpton Interviews Trayvon Martin's Father In Emotionally Gripping Segment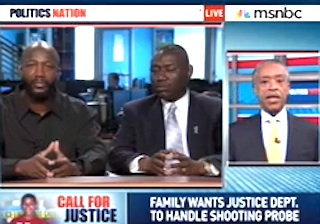 Tracy Martin, father of Trayvon Martin, who was killed a by neighborhood watch volunteer George Zimmerman, spoke to Al Sharpton on MSNBC's Politics Nation Monday evening. "The family is calling for justice. We don't want our son's death to be in vain. We're looking for answers. We haven't received any answers, we just don't understand. I don't have any understanding as to why my son is dead to this day," Martin told Sharpton.
RELATED: CBS' Jack Ford Explains FL's 'Stand Your Ground' Law's Role In Trayvon Martin Case
"I can't for the life of me understand how they can justify not making an arrest!" Sharpton exclaimed. "Arrest does not mean conviction, but there is probable cause here even with this law that we would question. This is a national outrage to many of us."
"You're absolutely right, Reverend Sharpton," family attorney Benjamin Crump acknowledged. "They have so much evidence to just make an arrest. We have three witnesses now that have come forward to say that the voice you hear crying out for help before you hear that definite gunshot, is Trayvon Martin's voice…We won't stand for this. We cannot let this message go out to America that you can go out and kill a little minority child and nothing happens to you. George Zimmerman is free as a jay bird."
Earlier Monday, CBS legal analyst Jack Ford explained why Zimmerman wasn't arrested for Martin's death. "Florida has a law, along with 17 states, that says you can stand your ground," Ford observed. "Which means you don't have that obligation to try to run first. So, in Florida, as long as you have a reasonable belief that your life and safety is in danger, you can use force to defend yourself, even deadly force. And now that's the situation they're suggesting."
Sharpton called this law "outrageous":
There was nothing threatening that we have seen in any of this from your son and for this young man to be dead, and this man to pursue him, he's not a policeman, we don't even know if your son know who he was, or what he was, or if your son felt threatened. To turn around and make him the victim is something that we cannot sit by and allow to happen. We have to stand with your family.
"And to call Mr. Zimmerman the victim is a slap in the face to me and my family," Martin opined. "It's a slap in the face to our community."
"We want you to know, Mr. Martin that you're not alone," Sharpton assured Martin. "And I don't believe in drive-by activism, and we will be there until it's resolved…Thank you, I know it's painful for you to have to keep doing these interviews, but thank you for coming forward tonight and we'll see you later this week in Florida."
Watch Sharpton's interview with Martin's father below via MSNBC:

Have a tip we should know? tips@mediaite.com