Al Sharpton On Trayvon Martin: 'We Are Not Running A Hate Campaign, This Is A Love Campaign'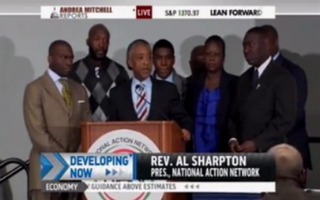 On Wednesday, hours after Attorney General Eric Holder promised that his Department of Justice will take action in the case of Trayvon Martin if there is evidence that a civil rights crime had been committed in that case, MSNBC host and president of the National Action Network, Rev. Al Sharpton, held a press conference with the family of Trayvon Martin where he condemned threats of violence against unindicted but alleged shooter George Zimmerman. "We are not running a hate campaign; this is a love campaign," said Sharpton just after he demanded the immediate arrest and detention of Zimmerman.
RELATED: Divisive: How The Conservative Media Has Been Covering Trayvon Martin
"To lecture us about rushing to judgment – we're a victim of a rush to judgment in this case," said Sharpton.
Sharpton went on to make clear that neither he nor the Martin family condone vigilante justice in this case. "Trayvon Martin's name must not be tarnished by those that are either for or against us with any reckless behavior even verbally," said Sharpton. "We are not in the business of revenge; we are in the business of justice… We must make the justice system work; otherwise this movement is for nothing. To go outside of the justice system is to achieve nothing. What we want is to make sure the justice system is corrected and works."
"Our quest is on probable cause the immediate arrest of Mr. Zimmerman," Sharpton continued. "when you heard his lawyers yesterday – or his ex-lawyers, or his ex-legal advisors – say themselves that they don't know where he is. It is unheard of for someone to kill an unarmed, innocent man and walk out of the police station. And now we are told 43 days later that they can't even reach him – his own lawyers. So there is no office of the court, no lawyer responsible for him, no one to reach him… he should be apprehended immediately. He should have been held that night."
"Can you imagine if this had happened in another community? This is unheard of and we feel it should be corrected," said Sharpton.
"This is not anti-anybody," Sharpton concluded, referencing the broad coalition of supporters who have marched with Martin's family and seek justice for the slain Florida teen. "We are not running a hate campaign; this is a love campaign."
Watch the press conference below via MSNBC:
Have a tip we should know? tips@mediaite.com