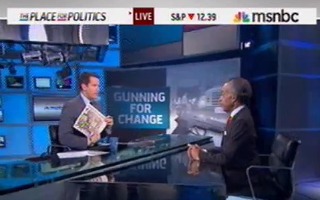 MSNBC host Rev. Al Sharpton appeared with anchor Thomas Roberts on Thursday to promote his upcoming political rally in opposition to the National Rifle Association. This is not the first time that Sharpton has deliberately blurred the lines between a news anchor and a political activist, and for all the pronouncements that his hiring at MSNBC signaled a cultural shift — with straight broadcast anchors increasingly indulging in evangelism for political causes — Sharpton remains the only news anchor to headline explicitly political rallies.

RELATED: MSNBC Pres. Defends Al Sharpton's Role In Trayvon Case: We Didn't Hire Him To Be 'Neutered' News Presenter
"You're no stranger to the fight to end gun violence," Roberts noted. He asked Sharpton what he hopes to accomplish with his rally in Washington next month to marshal public opposition to the NRA. Sharpton replied that he hopes to increase support for stricter gun laws as well as to boost support for teachers — specifically teachers unions.
This latest of Sharpton's causes appears to mirror his coverage of the shooting death of Florida teen Tryavon Martin in February, 2012. Sharpton crossed back and forth over the porous divide between news network anchor and activist regularly during the scandal surrounding Martin's death. The MSNBC host went so far as to hold a press conference with the family of the slain teen demanding justice.
MSNBC's head Phil Griffin defended Sharpton's coverage, saying "We didn't hire Al to become a neutered kind of news presenter."
At the time, the ethics group leader for the journalistic watchdog organization Poynter Institute, Kelly McBride, shrugged. "It's certainly the way we are moving in the journalism industry," she said. And yet, with nearly a year having elapsed between the Martin controversy and today's anti-NRA hysteria, there have not been any political rallies by CNN or Fox News Channel anchors to advance political causes.
If there had been, ethicists would rightly have come out strongly against that blurring of the line between neutral news anchor and advocate. With the departure of Glenn Beck from Fox News Channel, political rallies headlined by news anchors are now the exclusive province of the reverend. Sharpton was, however, an activist long before he was a news anchor. MSNBC knew what they were getting when they took him on and they do not appear to be displeased with his work.
> >Follow Noah Rothman (@Noah_C_Rothman) on Twitter
Have a tip we should know? tips@mediaite.com