Al Sharpton: Rick Perry Would Energize Democratic Base And Give Liberal Media A LOT To Talk About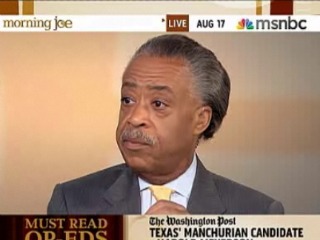 The gang at Morning Joe took some time this morning to discuss GOP presidential candidate Rick Perry, using Harold Meyerson's Washington Post op-ed piece on the Texas governor as their jumping-off point. In his article, wherein he refers to Perry as "Texas' Manchurian candidate," Meyerson writes that Perry, who has made wariness of the government a cornerstone of his campaign and his political persona, neglects to acknowledge the positive role the federal government has played in his state:
What Perry either ignores or doesn't know is how greatly Texas has benefited from the investments and regulations of the federal government he despises. He grew up, he tells all who will listen, on a small, hardscrabble Texas farm. But it was Franklin Roosevelt's Rural Electrification Administration that brought electricity to those farms, which, left to the mercies of the market, would have remained dark for decades. The New Deal threw money at Texas, bringing it dams, highways and schoolhouses. The cumulative effect of policies such as the federal minimum wage has been to diminish the disparity that long existed between the industrialized North and the more poverty-stricken South.
The panel pointed out that Perry inspires liberals to respond with an "incredible passion and anger" — a fact that can justify the frustration felt by Perry's base and, thus, actually help him out. Al Sharpton weighed in on this phenomenon and what it might mean for Democrats and Independents:
He would energize the Democratic base — and a lot of Independents — like no other candidate because you're talking about a guy that openly supported, at one point, talking about seceding from the Union, he goes around preaching states' rights — which not only bothers those of us in civil rights, but those that believe immigration rights and gay rights and others should not be decided in a state-by-state. Education, health care. I mean, you couldn't have had a better candidate to energize, if the President needs that, than Rick Perry. If he does win the primary, then I hope he is there as the candidate
Plus, an added benefit: Liberal news and opinion media outlets would never be at loss for things to talk about with Rick Perry as the Republican candidate. In fact, Sharpton said, talk show and radio hosts would have to be very sure to have enough peppermint on hand to "keep our throats well-oiled."
Fellow panelist Pat Buchanan, meanwhile, felt Meyerson's op-ed piece wouldn't hurt Perry's campaign too much and, as he sees it, Perry offers a contrast and an alternative to "the way things are done here" versus in Texas.
Have a look at the discussion, via MSNBC:
Have a tip we should know? tips@mediaite.com