Al Sharpton Argues About Tea Party Racism During Unannounced Fox News Appearance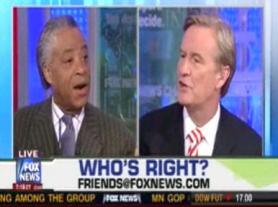 Al Sharpton is a fairly regular guest on Fox News, but we hear his appearance this morning on Fox & Friends was unplanned and unannounced.
But FNC cleared the rundown and made room for Sharpton on the curvy couch for a discussion about the NAACP, and yes, again, the New Black Panther Party.
"Is the NAACP saying that the Tea Party itself as a body is full of racists?" asked co-host Alyson Camerota. No. "They very clearly are saying elements at the Tea Party rallies have said or done or held signs that are racist," said Sharpton.
Then it came time for the whole hypocrisy argument. Steve Doocy took the lead. "The double standard is the fact that they offered up a resolution condemning tea parties, although I personally haven't seen any of the evidence, when you didn't offer up a resolution condemning the New Black Panther party," said Doocy.
And commence talking over each other. Look, it's interesting that Sharpton felt he had to make a personal appearance on the FNC morning show to argue his point, and it's commendable for FNC to open up the space to let Sharpton come on. But both sides are making essentially straw man arguments. Doocy, and what sounds like the rest of the FNC hosts this morning, want the NAACP to condemn the New Black Panther Party, but it's incongruous – they should be asking the New Black Panther Party to condemn the New Black Panther Party. And guess what? The New Black Panther Party has – on Fox News.
Meanwhile Sharpton wants the Tea Party leadership (who would that even be?) to condemn the few racist signs that inevitably show up. And let's not pretend they don't exist. But Tea Party activists regularly hedge their argument about the lack of racism in the Tea Party by saying there is self-policing, that they, essentially, condemn the racist elements as they are occurring.
It sounds like there's going to continue to be the stalemate between both sides – but that won't stop the arguments like today's on F&F:

—–
» Follow Steve Krakauer on Twitter
Have a tip we should know? tips@mediaite.com