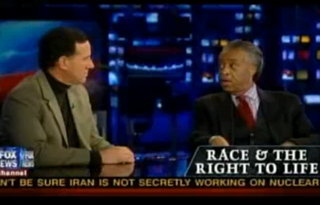 Former Sen. Rick Santorum, perennially a potential Presidential candidate, is not going on the defensive for his recent comment that President Barack Obama's stance on abortion was particularly shocking based on his race. In fact, he is so sure of his position that he was willing to defend it in the face of one of America's loudest race crusaders, Rev. Al Sharpton. Sean Hannity gave the a couple of segment on his show tonight, popped the proverbial popcorn, and let the games begin.
Santorum hit the ground running on his first segment, comparing "when we denied personhood to black people" with the abortion issue, and slamming President Obama for not being pro-life since, "as a civil rights and constitutional lawyer, [he] should be sensitive to how we define people." Sharpton, for his part, wasn't any less sharp in his attack, noting that the question of whether African-Americans were humans was not a time issue in the same way that whether a fetus is a human being is the same. "It did not matter where life starts," he argued, so the comparison is void because there was no point in the life of a black person where they would be promoted to full human status.
Santorum retorted by stating that "there was no debate" about when a fetus became human, rending Sharpton's argument moot. "That entity at that moment of conception is alive, and it is genetically human. You were that entity at some point. He was that entity. Everybody was that entity at some time." "That is an exact distortion of what you said," Sharpton replied, continuing his previous point before Hannity split up the head-butting to toss in some statistics on the prevalence of abortions by demographic.
The debate via Fox News below:

Have a tip we should know? tips@mediaite.com