Al Sharpton: 'We Can't Preach American Exceptionalism' Unless We Treat Newtown Shooting Like 9/11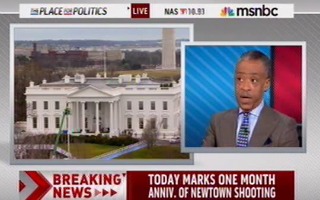 MSNBC host Al Sharpton told anchor Thomas Roberts on Monday that it would be "insensitive to the world" if Congress and President Barack Obama did not act on new gun control measures in the wake of the tragic murder of teachers and children in Newtown, Connecticut. "We can't preach American exceptionalism," Sharpton said, unless the Congress adopts new laws aimed at preventing future Sandy Hook Elementary School massacres. He concluded that it was the public's responsibility to make Newtown "the 9/11" of gun violence tragedies.

RELATED:Al Sharpton: After Gun Control, We May Have To Deal With Knife Control
Roberts asked what specific measures the Congress should consider. Sharpton replied that the previous Assault Weapons Ban, which expired in 2004, is a good place to start. He continued to insist that there was no time to for a delayed response by Congress and the world will be watching America's next moves.
"Are we saying to the world that if you watch 26 people killed – 20 miniature caskets – that we are only capable of remembering it for a month?" Sharpton asked.
"I think that if we are, then we are building an image that is so insensitive to the world that we can't preach American exceptionalism, and at the same time say, 'but we only have a month we can grieve for 20 babies to be buried," Sharpton added.
He concluded by saying that "we must make" the Newtown massacre the equivalent of September 11, 2001, in terms of its demand for immediate action by both the legislative and executive branches of government.
Watch the clip below via MSNBC:
> >Follow Noah Rothman (@Noah_C_Rothman) on Twitter
Have a tip we should know? tips@mediaite.com