Al Sharpton's New 'Lean Forward' Ad Is About Republicans Stealing Blueberry Pie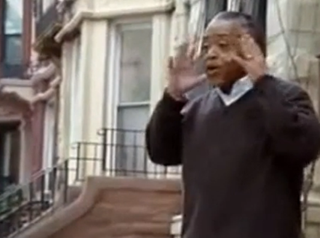 Al Sharpton can see the blueberry pie all over the faces of the Republican leadership– metaphorically speaking, of course. The MSNBC host debuted his installment of the network's "Lean Forward" campaign yesterday, a series in which hosts stand or sit around various locales pontificating on their politics to no one in particular. In this spot, Sharpton stands on a stoop in Brooklyn, talking about the days his mother caught him filching her blueberry pie. He was as guilty as the Republicans are of ruining the economy, he explains– "they were the ones eating the pie!"
RELATED: MSNBC's 'Lean Forward' Promo Campaign Moves To 'Next Level' With New Spots
The spot consists almost exclusively of a Sharpton childhood story, when his mother and others in the neighborhood would make blueberry pie. Blueberry pie is very blue, making it rather obvious when one has stuffed one's face with it. Nonetheless, little Sharpton would attempt to claim he was not the culprit, but to no avail.
"Guess what happens when I look at the GOP?" Sharpton suddenly asks. What happens [SPOILER ALERT] is that Sharpton hears Republicans claim they were fighting for the middle class– "they talk about 'the economy's bad' and 'we didn't do it,'" he explains– but! "They got the blueberry pie all over their face! They were the ones eating the pie!"
So remember, folks, as you prepare for Thanksgiving festivities tonight: if you count your blueberry pies before dinner and a few seem to have gone missing, Al Sharpton suggests starting your search in Grover Norquist's cupboard.
RELATED: Watch Keith Olbermann Write A Special Comment (And More From "Lean Forward")
Watch the pitch-perfect for the holidays spot via MSNBC here:



[h/t TV Newser]
Have a tip we should know? tips@mediaite.com