Alan Colmes Calls For Eva Longoria To Step Down As Obama Camp Co-Chair After 'Tw*t' Tweet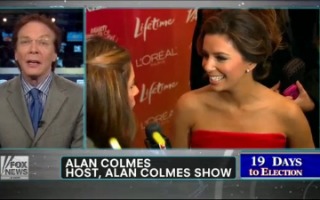 Liberal pundit Alan Colmes, reacting to Eva Longoria's re-Tweet of a curse-laden insult against GOP candidate Mitt Romney, has called for the actress to step down as co-chair of President Barack Obama's re-election campaign.
"I think she should resign from the campaign or be asked to resign as co-chair because I don't think it reflects well on the campaign," he told Fox News' America Live on Friday.
Colmes told host Megyn Kelly that "if it wasn't her personal view, she shouldn't have re-Tweeted it, and if it was her personal view, she should own it."
On Wednesday, Longoria — an outspoken Obama supporter who recently appeared in an ad bashing Romney and Republicans' stance on issues like abortion — re-Tweeted a follower who had written that "I have no idea why any woman/minority can vote for Romney. You have to be stupid to vote for such a racist/misogynistic twat."
Longoria later insinuated that the re-Tweet had been the result of some sort of glitch, asking "Is anyone else's twitter bugging out? There are things in my timeline I didn't retweet today. Hmmm? Standby trying to fix!" (Kelly called this "the Anthony Weiner defense") before finally admitting that "I use Twitter as a platform for all Americans and their opinions. Sorry if people were offended by retweet. Obviously not my words or my personal view. I respect all Americans #FreedomOfSpeech," adding that she had been attempting to "create dialogue."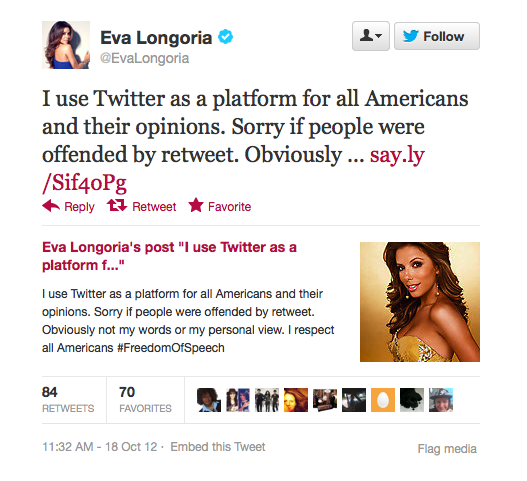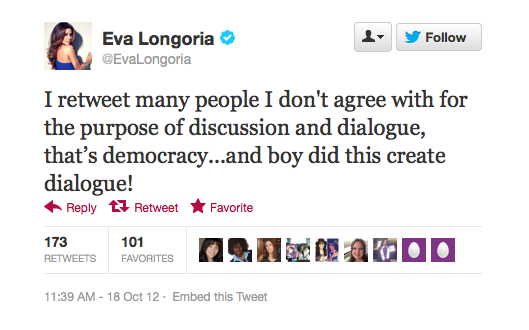 Nonetheless, as Kelly pointed out, this isn't the first time Longoria has re-Tweeted a contentious or offensive message. On October 11th, she re-Tweeted someone who had written that "Biden is making Paul Ryan his prison bitch" during the VP debate.
Colmes then pointed out that both sides have been slinging mud at one another throughout the election, with "just as much, if not more, hypocrisy on the right."
So. Careful what you re-Tweet, babydolls. And, remember, all of you … Michelle Malkin is always watching.
Have a look at the segment, via Fox News:
Have a tip we should know? tips@mediaite.com