Fox Panel Battles Over Report's Claim That Romney Media Coverage Was More Favorable Than GOP, Obama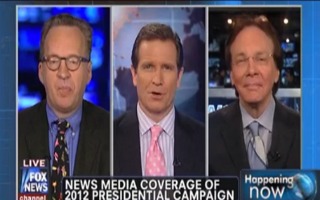 A non-partisan group recently found that former Massachusetts Gov. Mitt Romney received more favorable media coverage over the course of the Republican primary race than any of his GOP competitors or even President Obama. On Monday, Jim Pinkerton, editor with the American Conservative Magazine, and radio host and Fox News contributor Alan Colmes battled over whether the media has a liberal bias or if their reporting simply observes and reports reality and is then blamed for shaping it.

RELATED: In 2008, NY Times 'Basked' In 'Warm Glow' Of Obama Election, Now Takes 'Hard Look' At President
Fox News host Jon Scott asked Pinkerton whether he thought the complaint made by some, including former Pennsylvania Sen. Rick Santorum who alleged that the news media was solidly behind Romney's campaign, was true.
"I think the media liked Romney a lot better than they liked Santorum and, for that matter, [former House Speaker Newt] Gingrich," said Pinkerton. "I think we're seeing a shift now that Santorum and Gingrich have sort of gone away the media can now focus on whether they want President Obama to get reelected or whether they want Romney to win."
Pinkerton then produced a copy of Monday's New York Times which includes an editorial that describes Romney as "the best of a very bad bunch." He cited two critical editorials, one in the Times and the other in the Washington Post, that attack Romney and says he believed that a "pattern is emerging as to how the media are going to play the Romney/Obama race."
Scott turned to Colmes and asked him to weigh in on a study that found media coverage of Romney during the primaries was more favorable than even the coverage of President Obama.
"So much for the liberal media," said Colmes. He said that even the "liberal New York Times" editorial board on Sunday says that President Obama deserves a rather critical vetting before the election. "We've got, you know, wackos still talking about his birth certificate or whether he was born in Kenya – I mean this is ridiculous that he wasn't vetted after four years."
Colmes continued, "it's an absurd point of view that he hasn't been vetted."
Pinkerton rebutted that Arthur Brisbane, the author of the Sunday editorial in question, wrote that in 2008 the New York Times was "basking in the warm glow of President Obama's election."
"Yes, there is somebody at the New York Times that is honest enough to admit that the paper is biased," said Pinkerton. "However, it doesn't change the obvious direction of the paper itself."
"It's not the media, it's the voters," said Colmes. "It's the media who is covering the fact that Romney will be the likely nominee." Colmes went on to argue that what Pinkerton sees as "liberal bias" is really just a reflection of reality: voters did "bask in the warm glow" of Obama's election in 2008 and Republican voters did embrace Mitt Romney over the course of the GOP primary season.
Watch the exchange below via Fox News Channel:
Have a tip we should know? [email protected]