Alan Colmes Takes Obama to Task on Syria: 'Unless We're Threatened, We Shouldn't Be at War'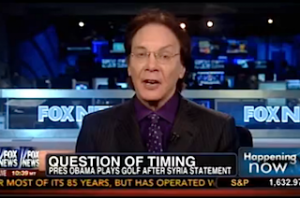 On a relatively slow-news Labor Day, Fox News' Gregg Jarrett brought contributors Jim Pinkerton and Alan Colmes on Happening Now to debate President Obama's decision to play golf directly after making his statement to the American people on Syria Saturday. Anyone could have expected the conservative Pinkerton to criticize the president, but it was liberal Colmes who really took Obama to task.
Colmes began by saying the "optics" don't look good in this situation, but also brought up the arguably worse scenario when President George W. Bush "famously was talking about a suicide bombing in Israel and then said, 'Now, watch this drive.'" But his real "disappointment" concerned Obama's decision to use military force in Syria in the first place.
"I'm disappointed we're drawing a red line and talking about a war," Colmes said. Calling the decision to go into Syria "ridiculous," he added, "You can't say there's going to be be a red line and the not do anything and then say, wait until congress gets back and let them decide. It does not look good. Unless we're threatened, we shouldn't be at war."
For his part, Jarrett said Obama's decision to seek congressional approval feels like an "afterthought, born of indecision or vacillation or fecklessness." Pinkerton agreed, adding that he's heard similar criticism coming out of the Hillary Clinton camp.
On the question of what happens if Congress does not give Obama to go-ahead, Colmes said that if Obama acts anyway he will be in violation of the War Powers Resolution as well as the Constitution. As for presidents who have used military force with congressional approval in the past, Colmes said they "were all wrong."
Watch video below, via Fox News:
[photo via screengrab]
—
>> Follow Matt Wilstein (@TheMattWilstein) on Twitter
Have a tip we should know? tips@mediaite.com