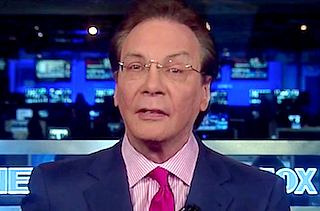 On Happening Now Monday morning, Fox News contributor Alan Colmes lit into George Will for his criticism of "hashtag activism," saying that those who don't understand social media should be more hesitant to mock its efficacy.

Will had called the #BringBackOurGirls campaign an "exercise in self-esteem" on Fox News Sunday yesterday, wondering how it was supposed to have any impact.
"This shows how little George Will knows about hashtags and Twitter and social media," Colmes said on a panel Monday. "This was originally tweeted, #BringBackOurGirls, by a Nigerian attorney Ibrahim Musa Abdullahi. It was not originally created by Michelle Obama. And the people have responded, including the Pope and [British Prime Minister] David Cameron. Are these people who are doing exercises in self-esterm?"
RELATED: GOP Rep. Mike Rogers: Foreign Policy 'Has to Be More Than Hashtags and Selfies'
"It used to be people would march in the streets," Colmes continued. "This is much more powerful because this is global. The Arab Spring was in part created by people on social media. These people who don't understand social media ought to not mock it because they don't know what they're talking about."
"What's strange, though, is when the First Lady of the United States holds up a sign saying 'Bring back our girls,'" Fox contributor James Pinkerton said. "Another option would have been to go see her husband and say, 'Mr. President, or Barack, what are you planning on doing about this?'"
"How do you know that she hasn't?" Colmes responded.
Watch the clip below, via Fox News:
[
Image via screengrab
]
——
>> Follow Evan McMurry (@evanmcmurry) on Twitter
Have a tip we should know? tips@mediaite.com