Alan Colmes Utterly Perplexed By Ft. Hood Shooter's Years-Long Gaming Of The Military Justice System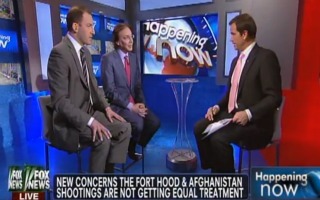 On Monday, a Fox News Channel panel was asked why Nidal Hasan, the Ft. Hood shooter, has been awaiting a military trial for years since his 2009 attack while SSgt. Robert Bales, implicated in the March massacre of Afghani children, will be tried this year. The reasons for the delay in Hasan's trial stem from his insistence that he grow a beard – some have said that he could appeal a conviction by claiming that his beard prejudiced the jury. Author and Fox News contributor Alan Colmes appeared vexed by the legal wrangling that has followed Hasan's insistence that he grow a beard. Colmes said that, if Hasan's religious convictions require that he grow facial hair, this is simply a cost that the military and taxpayers must shoulder.

On November 5, 2009, Hasan shot and killed 13 people at Ft. Hood and wounded 32 others while shouting "Allahu Akbar!" It remains the worst shooting ever to take place on a U.S. military base.
Former prosecutor Dan Schorr detailed the reasons why the Hasan case has been stalled for so long in military courts. He detailed the number of appeals, including the removal of a judge, which have directly or indirectly resulted from the defendant's insistence that he grow a full beard in spite of military regulations.
While Hasan has insisted that he will waive his right to appeal in order to grow the beard, Schorr said that it was unclear if that could eliminate every appealable issue that could arise should Hasan be convicted of murder in a military court. In fact, a potential appeal rests on the case that the jury was unduly influenced by Hasan's beard.
Colmes raised questions about the appropriateness of Hasan's insistence on growing a beard, but reverted quickly back to the boilerplate reliance on the Constitution's protection of religious rights.
"Don't we as a nation honor one's religious preferences," Colmes asked. "Even the burial of [Osama] bin Laden was done in such a way as to honor his Muslim faith. That's what we do as a nation here."
Fox anchor Jon Scott pointed out that it was Hasan who knew that he would not be able to grow a beard when he joined the military.
"But if he then decides he wants to have a beard and he claims that this is now part of what I view as my religious choice, who are we to say, 'well, you can't do that now, because we're not going to honor your choice now,'" Colmes replied.
Hasan's decision to grow a beard forced the removal of judge Col. Gregory Gross from the case because, according to a report in the American Bar Association Journal, "his focus on the defendant's beard, which was primarily an issue for his command to address, created an appearance of bias and had taken up a lot of court time."
In fact, the beard issue has become contentious because an appellate court did not rule as to whether that beard would be covered in the Religious Freedom Restoration Act. That court said "such issues should be addressed and litigated anew."
Schorr said that the prosecutorial decision to litigate the beard rather than the merits of the case against Hasan was, in hindsight, a mistake. That much is clear. But the calculation that the defendant may have made, to use the legal peculiarities of the American military justice system against itself, appeared lost on Colmes.
"Why would you want, in a trial, to put yourself in a situation where you look worse to a jury than you potentially could base on another choice," Colmes asked?
The answer to that question appears self-evident, if only because Hassan's actions have been so effective at allowing him to evade justice for his horrible crimes.
> >Follow Noah Rothman (@Noah_C_Rothman) on Twitter
Have a tip we should know? tips@mediaite.com