Alan Grayson Smacks Obama on Drones: 'It's God Who Decides Who Lives and Dies'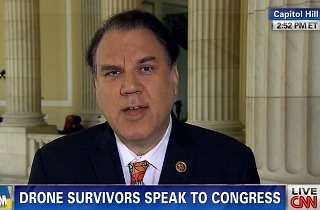 Rep. Alan Grayson (D-FL) appeared on CNN with anchor Brooke Baldwin on Tuesday to discuss his ongoing efforts to impose on President Barack Obama's administration some oversight regarding drone strikes. Grayson said that it was not right that so many civilians have been killed "upon the command of one man."

"We're undertaking something that's simply beyond anyone's capability – trying to decide on the basis of what we see on a computer screen in the United States who lives and who dies 8,000 miles away in a foreign land," Grayson said. "There've already been as many as 200 children – children – who've died through these drone attacks in Pakistan, in Afghanistan, and in Yemen."
Baldwin showed Grayson a list of top terror suspects who have been incapacitated as a result of drone warfare. "What is the alternative?" she asked.
RELATED: MSNBC's Martin Bashir and Rep. Alan Grayson Go At It Over KKK-Tea Party Email
"The alternative is to rely on other countries to clean up their own messes instead of having us send our death equipment to the other side of the world to perform those acts for them," Grayson replied.
Baldwin interrupted and reminded Grayson that Osama bin Laden was living in Pakistan under the protection of local Pakistani authorities. "Can we trust these other countries?" she asked.
"The alternative is to see staggering casualties among innocent people," Grayson countered.
"Generally speaking, it's god who decides who lives and who dies," he concluded. "Unless you're talking about drone attacks."
Watch the clip below via CNN:
[Photo via screen grab ]
— —
> >Follow Noah Rothman (@NoahCRothman) on Twitter
Have a tip we should know? tips@mediaite.com