Alan Greenspan: Debt Crisis So Imminent, 'We Have To Allow Bush Tax Cuts To Expire'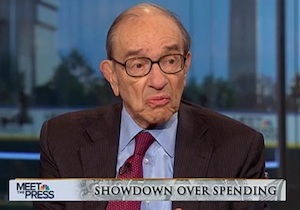 There once was a time not so long ago that former Fed Chairman, Alan Greenspan was so revered by both Democrats and Republicans that satirical newspaper The Onion often treated him as though he were a true life rockstar. And while the financial crisis of 2008 might have tarnished his legacy some, his comments still are taken very seriously. So people noticed when he said this weekend during an appearance on Meet the Press that the debt crisis was so significant that we should return to Clinton-era tax rates.
Writing for Wall Street Journal's Washington Wire blog, Luca Di Leo reports:
In an appearance Sunday on ABC's "Meet the Press," Mr. Greenspan used his strongest words yet to urge lawmakers to let them expire. The risk of a U.S. debt crisis, he said, is just too big. Mr. Greenspan, who retired from the Federal Reserve in 2006, had endorsed the cuts back in 2001 championed by then-President George W. Bush.

"This crisis is so imminent and so difficult that I think we have to allow the so-called Bush tax cuts all to expire. That is a very big number," he said, referring to how much the U.S. government could save from letting income taxes go back up to levels last seen under former President Bill Clinton.

Mr. Greenspan was talking about re-imposing the taxes for all Americans. The Treasury has estimated that a permanent extension of all the Bush tax cuts would cost $3.6 trillion over the next decade. Allowing taxes to increase on those in the top income brackets would take the cost to the government down to $2.9 trillion, according to White House estimates.
Watch the particular clip below, courtesy of NBC News:
Have a tip we should know? tips@mediaite.com