Alaska GOP Senate Candidate Joe Miller: Sen. Lisa Murkowski Left Me A 'Nasty Voicemail' On Victory Night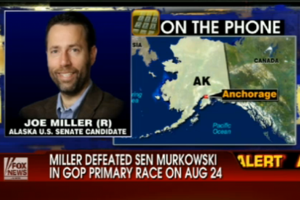 Republican Senator Lisa Murkowski has poised herself to become the Alaskan Charlie Crist by launching a write-in campaign to keep her seat in November. Her former primary opponent Joe Miller reacted to the news that he had to defeat her a second time on last night's On the Record, where he told Greta van Susteren he wasn't completely surprised with her "stunning" decision, given the "fairly nasty voicemail" she left him after losing.
Miller sounded unfazed by her new campaign, calling it disrespectful on two levels, the first being quoting late Sen. Ted Stevens in her new campaign announcement. Miller quotes a speech by Sen. Stevens where he warns against Republican divisiveness, and calls the whole thing another example of a politician who has gone back on her word. It is "really disrespecting the will of the Alaskan voter," he argues.
Van Susteren asks how the concession phone call to him went about, as Sen. Murkowski had backed Miller on the night she conceded only to rescind that support and now run again. She called and conceded, he noted, but later left "a fairly nasty voicemail on my phone… it was just inappropriate." With Sen. Murkowski, "it really is a character issue," he argued.
Van Susteren asks him to clarify the content of the email, noting that it's unfair for the audience to agree with his assessment of the voicemail with only his description of it as "nasty" as evidence. Miller doesn't clarify much after that, but continues arguing that it was representative of an overall inability to let go of power when necessary, which he associates with those on the left.
He also describes what campaign changes, if any, he plans on making in light of the news ("it's almost as if [Murkowski and the Democrats] are having their own primary; we already won ours"), and, asked if he has heard from former Alaskan governor Sarah Palin, notes that it is possible she called but he hasn't been to his phone in quite a while.
The interview from last night's On the Record via Fox News below:

Have a tip we should know? tips@mediaite.com