Alec Baldwin Embodies Everything He Hates About the Media on Law and Order: SVU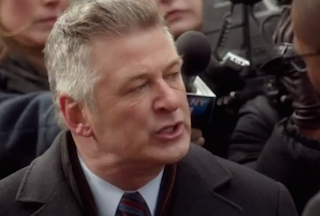 When Alec Baldwin announced last month that he was saying "good-bye" to "public life," it didn't mean his acting career was over. That much was apparent last night on Law and Order: SVU, in which Baldwin had a high-profile cameo as the fictional Jimmy MacArthur, the most notorious tabloid columnist in New York.
Baldwin's role, which had him aggressively breaching a rape victim's privacy, was especially ironic given the aggressive confrontations the actor has had with the paparazzi. In his New York Magazine essay, Baldwin said, "I loathe and despise the media in a way I did not think possible. I used to engage with the media knowing that some of it would be adversarial, but now it's superfluous at best and toxic at its worst." That toxicity is exactly what his Law and Order character was meant to represent.
You can see him in action in the teaser for the episode below, via NBC:
Peter Blauner, the Law and Order producer who wrote Thursday night's episode, told the Today Show that he did not speak to Baldwin about the New York essay, which hit the internet the same day Baldwin started shooting for the show. "We were thinking that the character of the columnist had to be a larger than life… to have big enough shoes to be worth Alec's while to fill," Blauner said. "We had to think about giving his use of language some muscularity. We had to think about giving him some history and stature knowing that we were writing a character that was larger than life for an actor who was larger than life."
Over the course of the episode, Baldwin's character writes several scathing take downs of the rape victim, complete with New York Post-style sensational headlines calling her accusations a "HOAX." He also invokes his former MSNBC colleague Al Sharpton by accusing a black reverend trying to protect the Muslim victim of creating "another Tawana Brawley" or "Tawanabe."
By the end of the hour, Baldwin's character sees the error of his ways, sitting down with Katie Couric on the fictional "Good Morning U.S.A." to issue his heartfelt contrition and admit the error of his ways. Perhaps Baldwin was able to experience a similar sense of catharsis by becoming that which he hates most, at least for an hour of television, and ultimately reforming sensationalist media from the inside.
Watch Baldwin's first scene from last night's episode below, via NBC:
[photo via screengrab]
— —
>> Follow Matt Wilstein (@TheMattWilstein) on Twitter
Have a tip we should know? tips@mediaite.com