Alec Baldwin Joins Lawrence O'Donnell Panel, Says Romney Is 'As Out Of Touch' As 'We Could Possibly Find'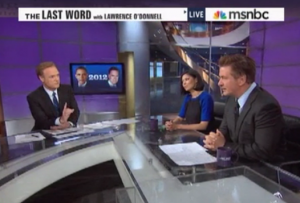 30 Rock actor Alec Baldwin joined Lawrence O'Donnell on Tuesday night, alongside Alex Wagner, to analyze the 2012 election. Baldwin, who's not shy about sharing his political opinions, noted that Republicans seem to be "getting scared" about the election because they know it's not looking good for them.
Starting off the panel, Baldwin said, "These guys are getting scared. They know it's not looking good for them. […] It's starting to look like [Obama] has it in the bag." He added, "I was one of the people that said quickly that all Obama needs to do for the first month of the general election is just slow clips of Gingrich's remarks about Romney."
Commenting on the story of the day (Osama bin Laden), Wagner called Obama's Afghanistan trip a "masterful political stroke" that positioned himself as the commander-in-chief. She contrasted that with Romney's "trotting around" handing out pizzas with Rudy Giuliani in New York.
Off that remark, Baldwin made it a point to note that the sacrifice and work of those New York firefighters is not to be diminished. But "the important thing," he said, is that Obama showed up and talked about peace. Baldwin continued:
If you play all these Republican debates — and they had more debates than there are games in the NBA season, these guys had debate after debate — you never heard them once, never heard the word peace mentioned. What I'm proudest of, whether the guy was Republican or Democrat — he happens to be a Democrat now — we are back to talking about the language of peace, which I think is important for the United States and for the world.
Foreign policy is an area where president will have to do delicate dance, Wagner said, but he's "proven very adept at that."
Later in the segment, the discussion pivoted to Romney and the ever-present question of his likability. Wagner said Romney's best bet is to just come out and say, "I'm a nerd […] I'm Mr. Fix It" — because competing with president on likability is "fruitless."
To that, Baldwin added:
Romney is at out of touch with the average American as we could possibly find on the meter today. In terms of being in touch with the average American, we would be better off with Gingrich than Romney, in terms of personal wealth and attitude about lifestyle and so forth.
He further noted, "Romney is Bush the first again. I think that the people are beginning to see that."
Take a look, via MSNBC:

Have a tip we should know? tips@mediaite.com