Alec Baldwin Previews 'Different' Kind of MSNBC Show: Won't Be a 'Bunch of Wonks'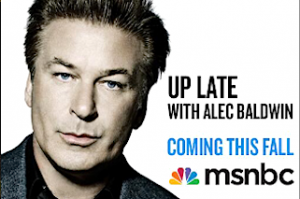 In two weeks, Up Late with Alec Baldwin will make its debut on MSNBC. Alec Baldwin revealed some details about his plans for the new Friday 10pm show in an interview with The Hollywood Reporter's Marisa Guthrie. The actor said he's going after "controversial people" as guests and told viewers to expect something different from the rest of MSNBC's lineup.
Baldwin would not say specifically whether he wanted to book Republican guests on the interview show, but rather said, "I want exciting, fizzy, dynamic people. I want interesting people. I want controversial people. I don't want to get a bunch of wonks together and just wonk-ify some issue."
This was perhaps Baldwin's way of digging some other MSNBC shows that rely on a fairly stable roster of pundits to analyze political issues from a liberal vantage point, something he stresses will not be the norm on his show. When Guthrie asked him what it's like to become part of the cable news system that many blame for "debasing political discourse," Baldwin distanced himself from that world.
"I don't think of myself as a part of anything, really," Baldwin said. "The people at MSNBC said, 'We want you to do something different, with a different tone.' I think they're trying to diversify what they have. It's highly unlikely that it's going to be me exhorting people at the end of some commentary. The show may change, the show may grow, but we're not going to do any of that."
The article also touched on Baldwin's propensity to stir controversy on Twitter. MSNBC head Phil Griffin has apparently asked Baldwin to tone down the rhetoric now that he's on the MSNBC payroll. "He's a big personality. I have confidence that he'll be known for his interviews," Griffin said, and not for anything else.
As for what's "off-limits" to Baldwin on the air, he said, "It's a news network, so as long as it's not indecent, we can say just about anything."
Read the full interview on HollywoodReport.com.
[image via MSNBC]
— —
>> Follow Matt Wilstein (@TheMattWilstein) on Twitter
Have a tip we should know? tips@mediaite.com