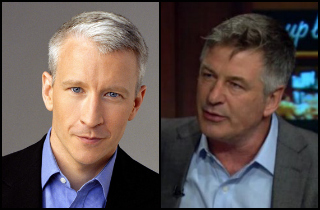 It's been a rough week for MSNBC host Alec Baldwin. After video emerged of him calling a photographer a "cocksucking fag," his weekly show has reportedly been suspended two weeks, and it's unclear if it will ever return. On top of that, critics both left and right have piled on the outrage, especially after Baldwin attempted to deny he had ever used the "f-word" and instead claimed he said "fathead."

One of those critics is CNN's openly gay anchor Anderson Cooper, who absolutely lit into the MSNBC host for his remarks. This seems to have stung Baldwin, who took shots at Cooper on multiple occasions over the weekend.
In his Huffington Post column expressing uncertainty over the show's return, Baldwin took a stab at his CNN competitor:
[I]f the show dies, its fate ends up being no different than the vast majority of start-up TV programming, and so be it. We do take a small amount of pride in knowing that we beat CNN in the ratings each of our nights. (I forget who they had on at that time.)
And later on, in a series of now-deleted tweets, Baldwin taunted Cooper by suggesting his own MSNBC show was "more of a pop-up" series that somehow "beat" Cooper every week:

He later updated the verb of choice to "outperformed":

Both tweets were deleted hours later.
In other curious news, MSNBC has yet to officially comment on the suspension and Baldwin's offending remarks in general. The two-week removal was broken by Baldwin on the MSNBC website, but the company itself has yet to make an official statement on the fate of the legendary actor's talk show.
We will update if and when we hear anything.
— —
>> Follow Andrew Kirell (@AndrewKirell) on Twitter
Have a tip we should know? [email protected]