Alec Baldwin Tells Piers Morgan 'It's A Possibility' He May Run For NYC Mayor In The Future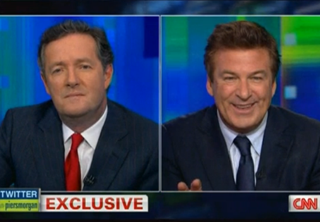 Piers Morgan got a shot at talking extensively with Alec Baldwin tonight about a little bit of everything– his acting career, his relationship with flight attendants, and yes, his politics. That latter point resulted in some of the most compelling parts of the interview, in which Morgan asked Baldwin what he thought of a potential mayoral run in New York City, and how much he had considered a serious career in politics.
RELATED: Wegmans Apologizes For Pulling Alec Baldwin Ads, Will Re-air Them Effective Immediately
Baldwin prefaced his answer by noting that he loved his job at 30 Rock and couldn't imagine being happier elsewhere. "I never, ever ever, no matter what happens, I will never have a job as good as the one I have now," he told Morgan. He added that when it came to getting advice from people in public office, "nearly all of them have tried to dissuade me from running for office," and that he believed he did have much influence as an actor, and saw it manifest in the last 25 years of "intermittent" activism.
That said, Morgan asked him whether he would consider a run for mayor of New York City, even though he excused himself from running this time around. "That's a possibility," he noted, but that he refrained from saying he could run because "work-wise, career-wise, contracts I've signed, would make running for mayor very difficult." That said, Baldwin did consider that there were many people running for mayor that made him feel "appalled" (though "there are people who are running for mayor who I'm overwhelmingly indifferent about"), and that encouraged him to think about it. "In the meantime, I have a job I love."
The segment, and subsequent comments about the importance of civil engagement via CNN below:

Have a tip we should know? tips@mediaite.com