Alec Baldwin, the Outrage Machine, and the Perverse Effects of Calling for Broadcasters' Jobs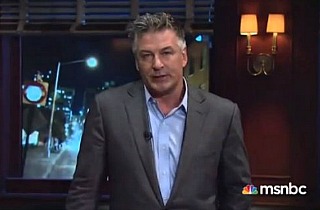 Although it has not been formally announced, MSNBC has reportedly imposed a two-show suspension on their recent hire, Alec Baldwin, after a characteristic outburst on the streets of New York City violated one of the network's chief organizing principles: words hurt.
After issuing a stream of indefensible homophobic slurs, a predilection of Baldwin's, MSNBC's conspicuous silence had media critics and observers speculating, "Would the liberal network live up to its own rhetoric when it finally came time to reprimand one of their own?" After much pressure, they did.
Baldwin has indicated that he may nurse his wounded pride by taking his ball and going home. In a blog post on The Huffington Post, the former 30 Rock star indicated that his show may not return after this suspension. Skittish MSNBC programmers may be pulling the plug on the month-old Baldwin project, but it's more likely that he is embracing the self-indulgent instinct to impose some form of punishment on his reluctant disciplinarians.
If Baldwin chooses not to return to MSNBC, that is his prerogative. It would, however, indicate that the actor was never cut out to be a talk show host. Broadcasters are held to higher standards than artists and when they make mistakes, as they often do. They often suffer consequences for behavior that other high-profile orators not associated with political commentary do not. But a double standard is a standard nonetheless.
Professional broadcasters have learned to live within the constraints imposed on their behavior by the modern, reactive culture of political correctness. Baldwin can learn this lesson, too. He is an accomplished artist with a big personality and something to say – all the ingredients of a successful talk show host are present in Baldwin. If he wants it, he should be able to keep his job.
RELATED: Lack Of Calls From The Right For Touré To Be Fired A Testament To Principled Support For Free Speech
Speaking extemporaneously on issues, the talk show host's job description, is fraught with pitfalls. It is easy to run afoul of an interest group with a letterhead. In an era in which shrinking revenue streams from advertisers have imposed austerity on broadcast outlets and media companies, few executives have the stomach to ride out a boycott threat until it inevitably dissipates. The white-hot immediacy of the threat to the bottom line often forces broadcast executives to seek the path of least resistance. Often times, broadcaster entertainers, especially green broadcaster without a large, committed fan base, are the first to be jettisoned when those threats are issued.
There are many adverse effects to this disproportionate reaction to speech. Support staffers, not talent, feel the effects of lost revenues generated from boycotting hosts most acutely. Sales staff, producers, writers, researchers, technical associates, and engineers are the first to suffer.
While the hosts in the crosshairs can also be asked to sit on the sidelines for a time, this is almost always a temporary effect. Why? One of the perverse effects of calling for the firing of established broadcasters is to make them more valuable to broadcast outlets.
As revenue streams shrink, media outlets are simply unable to gamble on new talent. Building up an audience base requires time and capital investments that broadcast corporations cannot afford. The result is that the talent pool grows thinner, content staler, young hosts are stifled, and audiences suffer as predictable media fixtures fossilize in the seats they have occupied for decades.
Baldwin's infraction was egregious, particularly given how MSNBC's hosts attack public figures that violate what they view as appropriate rhetorical conduct. An apology and a wrist slap were appropriate responses. No one, however, should be calling for his job. Many would be badly hurt by Baldwin's firing, Baldwin being the least among them.
[Photo via screen grab]
— —
> >Follow Noah Rothman (@NoahCRothman) on Twitter
Have a tip we should know? [email protected]