Alec Baldwin To Charlie Rose: 'Political Opposition' Misrepresenting Paparazzi Scuffle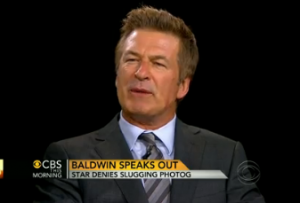 On Tuesday night, Alec Baldwin paid a visit to Charlie Rose — namely to chat to about his new movie, To Rome with Love. But given the day's events, the conversation unsurprisingly veered elsewhere as Rose inquired about Baldwin's scuffle with a photographer. The actor said the story's been misrepresented, saying the photographer almost hit him with the camera.
RELATED: Alec Baldwin Shoves And Allegedly Punches Daily News Photographer
For those unfamiliar with the incident, yesterday the New York Daily News reported that Baldwin punched and shoved Daily News photographer Marcus Santos for taking his picture outside New York's Marriage License Bureau. "He was looking mad," Santos told the Daily News, adding, "I knew he was going to attack me. I stepped back, and he kept coming." He then described the altercation, describing the punches.
"When you have an incident like you did, is it because you get upset somebody's invading your privacy?" asked Rose.
"The guy almost hit me with a camera," Baldwin replied, leading Rose to ask what happened. Thus was his side of the story: "There was a person in front of me, and I was blocking him and he lunged and he almost hit me in the teeth with the lens of the camera. And I pushed him away."
He further criticized the media's distortion. "You have your political opposition and they get on the internet, and within 30 minutes the misrepresentation of the story is out there," said Baldwin. "You go on Twitter or Fox Nation says, 'Baldwin punches photographer.' Not true."
Santos, on the other hand, has filed an assault charge.
Take a look at the clip, via CBS:

(H/T TVNewser)
Have a tip we should know? tips@mediaite.com