Alec Baldwin Winkingly Explains His Paparazzo Scuffle To Letterman: I Was Asking About The F Train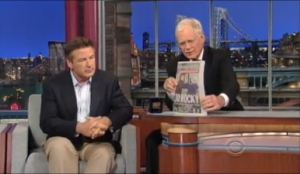 Actor Alec Baldwin appeared on David Letterman's show Wednesday night, where he and the host discussed Baldwin's recent run-in with a paparazzo, which ended up being photographed and spread around the web.
Letterman noted that Baldwin had gone to sign his marriage license — an important day, certainly — and that the paparazzi had followed him because he's a well-known celebrity. Baldwin then said that, once upon a time, big Hollywood studios used to protect stars from the press, covering up stories about them having substance abuse issues, or affairs or abortions, etc. But eventually, he continued, they decided it was better to make a buck off stars by selling their stories instead.
RELATED: Alec Baldwin Shoves And Allegedly Punches Daily News Photographer
After Letterman noted, briefly, that he'd once been nearly run off the road by a paparazzo, Baldwin explained that this particular photographer had been following him before, and that he's a "master" of getting right up close to you so you become afraid that his camera might strike you in the face.
Baldwin said he shoved him because he'd gotten too close, and that if he had indeed punched him as reports have indicated, it'd have been a calculated move to get the guy alone in a jail cell, "and then you don't want to know what'd happen in the jail cell." A re-enaction of Beetlejuice?
Letterman opined that Baldwin had been "unnecessarily provoked."
The actor then joked that he can be seen forming an "F" sound in the picture because he'd been asking the man about the F train. Wink!
Check it out, via CBS:
Have a tip we should know? [email protected]