Alessio Rastani: 'If People Want To Believe That I'm Part Of Yes Men Then Let Them'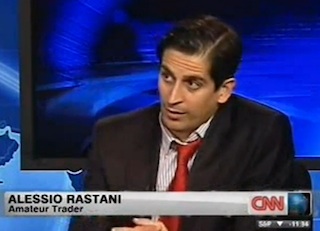 Yesterday we reported that Alessio Rastani, the independent trader who left "jaws dropped" when he told a BBC reporter, quite frankly, that, "The governments don't rule the world, Goldman Sachs rules the world," may have been an actor in a Yes Men act. He told Forbes that, "I don't think it was news. For someone to say what I said, I thought everybody knew this stuff," and that "No, I am a trader absolutely." In return, the Yes Men said they had never hear of Rastani, but commended him for being "more honest than usual" about an approach that "has been completely mainstream for several years now."
Today, CNN invited Rastani back into the studio, offering him the chance to explain himself more clearly. According to Jim Boulden, he was "very reluctant" this time around but also very honest. In a more measured and defensive tone, he explained that the BBC spot was not meant as a publicity stunt, and intriguingly, that he doesn't care if people think he is a part of the Yes Men.
For the most part, Rastani maintained his message that there is money — lots of it — to be made during recessions. "Yes, a recession can be horrible, it is, it's a tough time," he qualified before explaining that, "As a human being you don't want it. As a trader you think differently. You're going to have one of the most volatile and possible trending conditions to make money in that market." This is something that he knows not through dark magic — "I don't have a crystal ball that I look into" — but because that is what the charts and numbers and facts tell him. Anyone, he argues, can make money off the tough times; and everyone, perhaps, should "go to bed dreaming of recession."
Boulden wondered if Rastani's shocking showing then was a pitch, perhaps for a forthcoming book or for the financial trainings he offers on his site. He objected morally to the assumption that his appearance was a money making stunt, and assuring that, "I believe there is a god, and I could not possibly sit in front of you, and a television station, and say anything that I don't believe. My conscious wouldn't allow it."
"The question is, why are they paying attention to this? In my opinion somebody out there doesn't want my voice to be heard and they want to attack me and damage me," he argued, suggesting that the "Big Boys" desperate to keep people like him quiet are the ones with whom the media should be most concerned.
Sounds entirely honest, and also sort of like the Yes Men's manifesto, in full flesh. Asked one more time, as to whether or not he is working in coalition with the group? "Let people believe what they want to," he said. "If people want to believe that I'm part of Yes Men then let them believe it."
Now back to those "Big Boys" you speak of…
Yes Man? Not a Yes Man? Does it matter? Watch the full interview with Rastani, courtesy of CNN, below and decide for yourself:

Have a tip we should know? tips@mediaite.com