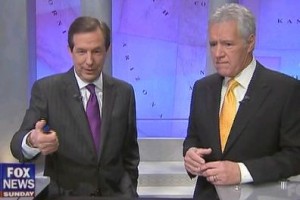 We get too much heavy-handed politics these days. How about something lighter, like game shows? Alex Trebek was today's featured "Power Player" on Fox News Sunday, and the Jeopardy! host opened up about hosting one of the most popular game shows on TV for almost three decades. He told Wallace that he has given some thought to retiring after another year or two of hosting, but he's "torn" by the decision because of how much he enjoys it.
RELATED: Chris Matthews, Anderson Cooper, Dana Perino, And Other Media Personalities Face Off On Jeopardy!
Trebek was featured on the show because last month, he was in D.C. for Jeopardy!'s special "Power Players" week, featuring media personalities competing against each other for the charity of their choice. Wallace was one of the contestants on the show during the filming. He was playing for Hope for the Warriors, a charity for U.S. service members and their families. Wallace got a rundown of how the show's format works from Trebek himself. Wallace was able to share some footage from the practice rounds, when he was competing against Dr. Mehmet Oz and the BBC's Katty Kay.
Trebek spoke with Wallace about one of the biggest controversies of his career: when he finally shaved off his mustache. (They say he was the Ron Swanson of his time.) He was astonished at how many people cared about how his face looks. Wallace told Trebek, a Canadian by birth, that people have noticed "Canada" is one of the most frequent answers on the show. (Does anyone have enough free time on their hands to fact-check this?) Trebek joked that if someone on the internet is saying that, they need to "get a life."
When Wallace asked if Trebek dumbs down the questions for the celebrities, Trebek did not respond, but instead made a little shushing sound at the camera. However, he did seriously explain that while it might seem like he knows the answers to everything, he would not necessarily beat everyone else if he were a contestant.
"People who come to our tapings often ask, 'How would you do, Alex, if you were a contestant?' And I tell them, honestly, a good 30-year-old could clean my clock."
RELATED: Alex Trebek Tears His Achilles Tendon Battling A Burglar In San Francisco
He did admit to Wallace that he has given some thought to retiring, but he enjoys hosting the show too much to simply just give it up. He hinted that he may go for two more years just to make it an even 30 with him hosting. Then it'll be handed over to Drew Carey or Wayne Brady or something.
Watch the video below, courtesy of Fox:
Have a tip we should know? tips@mediaite.com
Josh Feldman - Senior Editor