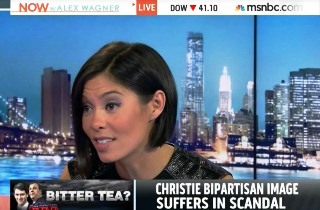 MSNBC host Alex Wagner became frustrated on Wednesday when Business Insider's Josh Barro insisted that some of the actions of New Jersey Gov. Chris Christie which have been construed as "intimidation" are closer to standard transactional politics. Wagner insisted that the closure of two local outbound lanes of the George Washington Bridge in 2013 was anything but standard politics because it resulted in "casualties."

Barro began by saying that a number of the behavioral improprieties that Christie has been accused of, with the exception of the bridge closure, are really standard political behavior. He specifically cited the claims of Olympian Carl Lewis who says Christie sought to pressure him out of running for the New Jersey state Senate as a Democrat.
"These seem like the sorts of political things a governor ought to be doing, trying to get strong candidates out of races," Barro posited.
RELATED: 'It Was Just Her Time': 91-Year-Old Woman's Daughter Doesn't Blame Christie for Mother's Death
"Closing the bridges, there were casualties to that decision," Wagner protested.
It was unclear whether Wagner was using the term "casualties" to apply to waking wounded or the word's more modern context which includes both wounded and fatalities. However, she would be hard-pressed to prove either accusation.
On January 8, shortly after emails surfaced implicating Christie's staff in the closure of the bridge for allegedly political purposes, hundreds of reports surfaced linking those closures to the death of a 91-year-old woman who passed away before an ambulance that was caught in bridge-related traffic could reach her.
Some suggested that this was a preventable death that was brought about by the state of New Jersey's negligence. A follow up report in the following day's New York Times debunked this assumption. Quoting the late nonagenarian's daughter, the Times reported that the deceased's family believes that she passed away in her home and was only later pronounced dead at the hospital.
"The traffic didn't make any difference," the husband of the 91-year-old's daughter told the Times.
"I honestly believe it was just her time," the woman's daughter added.
Watch the clip below via MSNBC:
[Photo via screen grab ]
— —
> >Follow Noah Rothman (@NoahCRothman) on Twitter
Have a tip we should know? tips@mediaite.com