Alex Wagner Tells Conan Her Dream Guest: I'd Love To 'Drink Merlot And Just Cry' With Speaker Boehner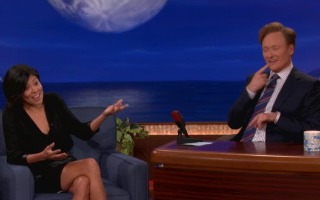 On Wednesday, TBS' Conan O'Brien had MSNBC anchor Alex Wagner on his show to talk politics, tears, and whether Obama and Romney would like to tear one another's hair out. (A: Yes).
O'Brien wondered whether Wagner agreed that the second presidential debate had a bit of a "reality show" air about it, with Wagner saying that she half-expected to see fake nails and extensions scattered all over the debate floor. It was, she added, downright "Kardashianesque." After all, these are two candidates who don't really like or respect one another.
Check it out, from TBS:
O'Brien also asked Wagner what the deal is with undecided voters. Do they just, maybe, like the attention they're getting at this point? She agreed that it's weird, if not impossible, to have made it to this point in the campaign without forming a firm opinion on what she described as the "very different" paths for the country that each of the candidates has presented. Unless, maybe, you've spent all this time living in space (Gingrich vote!) or in a coma.
She did concede that both Barack Obama and Mitt Romney, unlike the more extroverted former president Clinton, were "like bosses," although Obama is the boss who comes to chat with you by the water cooler, and Romney is the boss who approaches the water cooler and asks whether you shouldn't be getting back to work now.
When asked about her pick for a dream guest, Wagner said she'd love to share some red wine and some tears with House Speaker John Boehner. Also? She admitted that she cries whenever she sees him crying.
Have a look, via TBS:
h/t TeamCoco
Have a tip we should know? tips@mediaite.com