Alex Wagner's MSNBC Guests Remind Her Obama Can't Just Issue 'Grand Shows' of Police Condemnation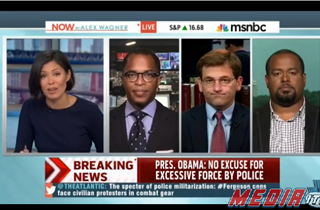 Immediately after Barack Obama's press conference addressing the situation in Ferguson, Mo., Alex Wagner was outraged that he didn't say anything stronger, angrier, passionate, emotional, etc., about the death of Michael Brown, especially compared to the "honesty and emotional tenor" of his Trayvon Martin remarks.
"He was reserved and very careful to be, I think, in some ways, protective of law enforcement in that press conference," she argued, and later asked panelist and former panelist Josh DuBois:
I wonder if you think the president's words were adequate, given the hurt and frustration — and the fact the majority of the comments were directed towards black men in the community, and not at all towards the police department that some say have had an unfair disproportionate and some ways perhaps unconstitutional response to this crisis.
But there's a small problem, as every panelist repeatedly said: the investigation is still ongoing, and the President can't say anything stronger because he is the president.
"We are at the beginning of the legal process here. Because he's the chief law enforcement officer of the United States, he cannot possibly get involved in any kind of specific way in this specific case where it looks like he's putting his thumbs on the scale," WaPo's Jonathan Capehart repeated, echoing DuBois and New York Times reporter Peter Baker. "It would be very detrimental to all of those people looking for justice in the killing of Michael Brown."
"Let's not get bogged down in grand shows of 'down with the people' talk that some people want the president to show," he cautioned.
Watch below, via MSNBC:
[Image via screenshot]
—
>> Follow Tina Nguyen (@Tina_Nguyen) on Twitter
Have a tip we should know? tips@mediaite.com