Alex Wagner's NOW Debuts With Question On Obama's Leadership On Supercommittee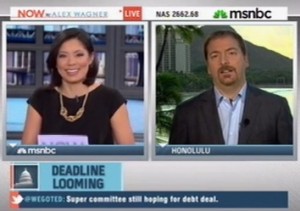 At noon eastern time today, the Alex Wagner era at MSNBC began with the debut of the former Politics Daily White House correspondent's newshour, NOW. Joined by a whip-smart panel that included HDNet's Dan Rather, Politico's Maggie Haberman, and New York Magazine's John Heilemann, Wagner kicked off the show with an examination of how President Obama's handling of the debt supercommittee is playing with voters.
President Obama, as Wagner puts it, "has gotten out of dodge," traveling to Hawaii for the APEC conference, then on to an Asian swing that will keep him out of the country until days before the looming "Supercommittee" deadline. In Hawaii, the President urged the committee, charged with reaching a debt and deficit deal to avoid painful automatic cuts, to "go ahead and bite the bullet," and as Alex notes, the White House has taken pains to draw a contrast between its own actions on job creation, and the Republicans' (and a few Democrats) inaction.
After playing a clip of White House Press Secretary Jay Carney placing the onus for a deal squarely on Congress, Wagner observed, "This is, I feel, the most aggressive they have been in terms of pitting the White House versus the do-nothing Congress," then asked, "Is it going to work, Maggie?"
Despite some positive movement in the polls since September, Politico's Maggie Haberman wasn't so optimistic. "I don't think it's going to work," she said. "This gets harder for the President, especially the closer we get to the election. I think people want to say the President is leading, regardless of the fact this is Congress," concluding that people want a president who can "corral Congress."
NY Mag's John Heilemann said that it would be nice if President Obama could show "strong leadership" and "corral Congress," but "when he tries to do that, he has failed on almost every occasion."
Dan Rather correctly challenged the notion that the Republicans' obstructionism is somehow the President's failing, but that even given their obstructionism, the President's apparent disengagement might not play so well with voters.
At least during this first episode, the panel stayed together throughout most of the show, giving NOW a similar brunching-with-smart-friends vibe to the network's Up with Chris Hayes, and perhaps continuing a trend of news shows named for monosyllabic adverbs. Later in the show, Wagner introduced several of the branded segments ("the Bullpen," for example) that have become staples on the cable news menu. She was confident throughout, but not overly slick, and the production on this first episode was seamless.
Alex Wagner had already proven herself an appealing TV presence in her role as MSNBC contributor, and her journalistic chops figure to serve her well in this format, not only with the skill she can bring to bear as host, but in securing sharp, insightful panelists.
Here's the clip of Alex Wagner's inaugural NOW segment, from MSNBC:
Have a tip we should know? tips@mediaite.com