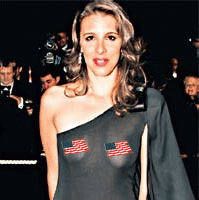 Alexandra Kerry, daughter of alleged 2004 Democratic presidential nominee John Kerry, was arrested last night in Hollywood over an alleged DUI. Alexandra Kerry also wore a see-through dress some years ago (left; censored). When this finishes bubbling up to become the 'big story' that it inevitably will, how will the pundits spin it?
First: the "alleged" is because, as Wonkette put it, Kerry "reportedly refused the copper's field DUI test. So by the time she got to the station, she was only .06, and you need .08 for DUI." So it's unclear if there will be any further legal precussions, and according to TMZ's "inside word," it's flat-out unlikely.
Second: drunk driving is of course an awful, potentially deadly offense. But the opportunism with which the media leaps on this sort of happening is in its own way offensive. A few possible "angles" for Alexandra Kerry's arrest:
Angle: Bush Twins-related shouting match
Connection: Kerry ran against Bush in the 2004 election; Bush's daughters were arrested for fake i.d.'s and underage alcohol possession.
Angle: Dick Lugar's wife-related shouting match
Connection: Republican Indiana Senator Dick Lugar's wife, Charlene, was also arrested for a DUI last night. Though in her case, it wasn't "alleged;" she was picked up by police after crashing into a parked car.
Angle: She's like the Kennedys!
Connection: Alexandra Kerry's father, like departed Senators John F. Kennedy and Ted Kennedy, is a Democratic Senator from Massachusetts. Many members of the Kennedy clan reportedly had drug and alcohol abuse problems.
Aren't these manufactured debates and angles precious? Here's a brief AP segment about the arrest:
Have a tip we should know? tips@mediaite.com