Alexis Glick Out At Fox Business Effective Today; FBN Insider: "It's Hardly A 'Loss'"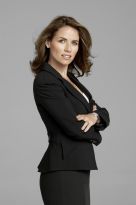 Fox Business Network anchor and Fox Vice President Alexis Glick announced today on-air she would be leaving the network, effective immediately, to pursue "another interesting and unique project."
But the abrupt announcement raises questions about just what happened to end her three-year partnership with Fox.
"I want you guys to know that today will be my last day here at the Fox Business Network," she said this morning on her program Opening Bell. " I have enjoyed three fulfilling years of growth, learning, development, fun and games."
For the time being, a variety of FBN talent will fill in on the show.
Glick was probably the anchor most affected by the hiring of Don Imus, whose addition pushed Glick's show to just one hour. As some saw the move as a directional shift for the network away from hard business news, it also signaled something else – much better ratings. And as her role at FBN diminished, others, like Liz Claman, Jenna Lee and Connell McShane saw an increase in exposure. Even Glick's Fox News appearances have gone down – the last time she was on the network was December 4, according to TV Eyes.
Business Insider calls the move "a loss for Fox Business, which has given up on trying to beat CNBC."
An FBN insider tells Mediaite, "It's hardly a 'loss' for Fox Business, unless of course the loss they're referring to is the 70% dropoff in viewership that Opening Bell suffered every day at 9am."
Nielsen does not publicly release ratings information for FBN – but Imus has certainly been a ratings draw for the network since he started earlier this year.
So what happens now for Glick? We put her in our Mediaite Oddsmakers for Diane Sawyer's job, and obviously she won't be getting that. But she has made several appearances on ABC News before – specifically Good Morning America. As that network goes through a transition, could she have a role at the new ABC News? She has prior morning show experience before FBN as well – she spent several years at NBC's Today show, however it was not a clean break-up there. She could also end up at CNBC or Bloomberg.
The timing of this announcement is strange as well – the dead-zone of right before Christmas is sure to bury the story, and Glick's future plans are very vague.
And now for a trip into the No-Spin Zone. The FBN official press release:
Alexis Glick, Anchor and Vice President of Business News for FOX Business Network (FBN) announced today on Opening Bell that she will be leaving the network to pursue other opportunities.

In making the announcement, Glick said, "I have enjoyed three fulfilling years of growth, learning and development. How many people can say they have had the opportunity to help build a brand new network? Being the first new employee of FBN and seeing it grow to over 300 extraordinarily talented employees has been the experience of a lifetime. I am so proud of what we accomplished and I wish my colleagues continued success in the future."

She continued, "I am about to embark on a new venture that will allow me to utilize the skills I learned at Fox Business, Morgan Stanley, and the Today Show. I can't give any details yet but suffice it to say, that I am extremely excited about taking on yet another interesting and unique project."

A variety of FBN's signature talent will anchor Opening Bell in the interim.

Kevin Magee, Executive Vice President of FBN, added, "Alexis has made a significant contribution to FBN and we wish her all the best in her future endeavors."

Glick joined the network in 2006 as Director of Business News prior to its launch and served as the host of one of the inaugural programs Money for Breakfast through October 2009. She also anchored Opening Bell since December 2007.
We don't want to read too much into it, but a "wish her all the best" is actually fairly close to a "wish well" from Fox – the notorious sarcastic send-off from FNC.
—–
» Follow Steve Krakauer on Twitter
Have a tip we should know? [email protected]