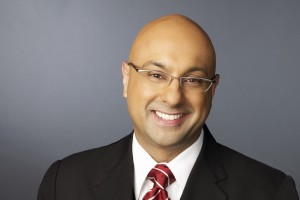 According to CNN, the network plans to increase the footprint of Your Money host Ali Velshi to Sasquatchian proportions, bringing his financial reporting expertise to bear as the anchor of a daily CNN International show, World Business Today, and stepping up his business reporting and analysis on CNN. The move should be a good one for Velshi, for CNN, and for CNN's viewers.
From CNN's press release:
CNN Chief Business Correspondent Ali Velshi is adding new roles across CNN Worldwide. Beginning next month, Velshi will provide business reporting and analysis for CNN's domestic channel, launching signature segments that will interpret and explain a top story of the day. In addition, in 2012, he becomes an anchor of CNN International's World Business Today, a daily global business news program. Velshi also continues as host of Your Money on weekends on CNN/U.S.

In Velshi's new role for CNN/U.S., he will take a look at one of the top economic, global or political stories of the day and deconstruct and translate it for viewers. Drawing upon Ali's global business news experience, this segment is geared towards breaking down for audiences some of the most complex issues of our time.
"I'm looking forward to the daily intellectual exercise of taking the most important and intricate issues, breaking them down and providing the context necessary to help the CNN viewer make the smartest decisions they can," said Velshi.
Velshi  became nearly ubiquitous as the financial crisis unfolded in 2008, demonstrating an ability to connect viewers with (often bone-dry) stories in an engaging, yet still thorough, way. Since then, Velshi has been a fixture at the network, providing commentary and analysis on a broad range of topics, moving around the programming schedule as interim host in primetime, hosting dayside programming, and morning programs.
His expanded role, though, will allow Velshi (and CNN) to leverage the skill and expertise that made him a star at the network, and his World Business Today gig offers a chance for viewers to catch Velshi in a permanent home worthy of his talents. "Ali's global business expertise is an asset that we want to showcase more broadly across a range of CNN programs," said Ken Jautz, Executive Vice President, CNN/U.S., in a press release. "He will help viewers understand and decode some of the most complex and important stories of the day, particularly economic and global issues."
The prominence of business issues in today's news cycle, manifested by the cultural crossover of the Occupy Wall Street movement, and the importance of the economy in the upcoming presidential election should prove Velshi invaluable, as he continues to connect mains street viewers to Wall Street stories.
Have a tip we should know? tips@mediaite.com